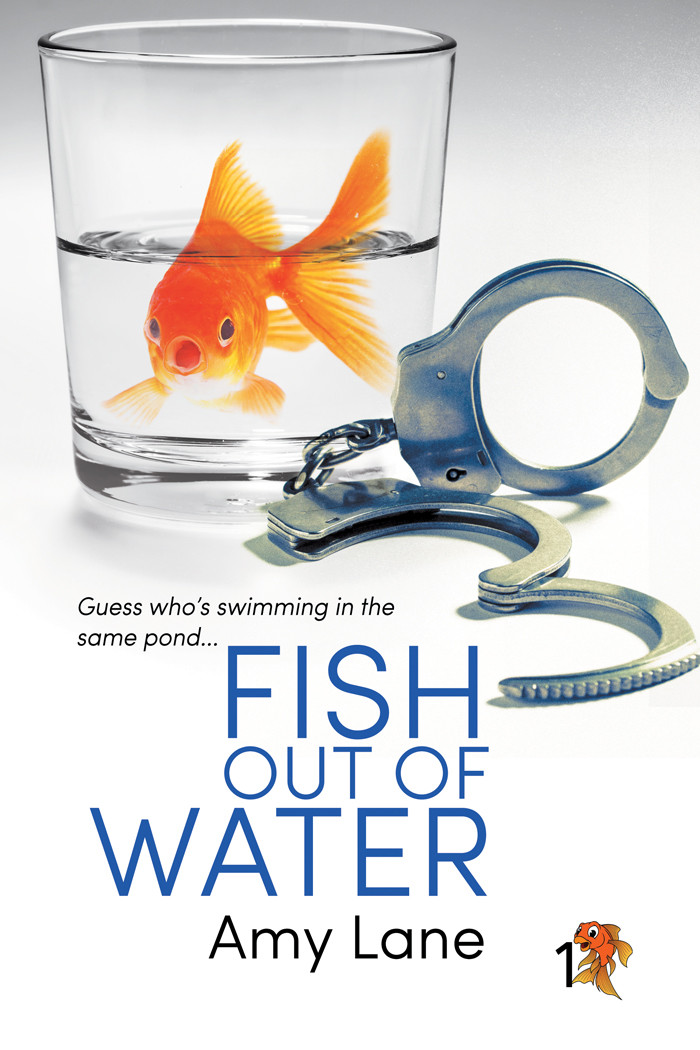 Title: Fish Out of Water
Publisher: Dreamspinner Press
Author: Amy Lane
Pages: 270
Kisses: 4.5


Blurb:
PI Jackson Rivers grew up on the mean streets of Del Paso Heights—and he doesn't trust cops, even though he was one. When the man he thinks of as his brother is accused of killing a police officer in an obviously doctored crime, Jackson will move heaven and earth to keep Kaden and his family safe.
Defense attorney Ellery Cramer grew up with the proverbial silver spoon in his mouth, but that hasn't stopped him from crushing on street-smart, swaggering Jackson Rivers for the past six years. But when Jackson asks for his help defending Kaden Cameron, Ellery is out of his depth—and not just with guarded, prickly Jackson. Kaden wasn't just framed, he was framed by crooked cops, and the conspiracy goes higher than Ellery dares reach—and deep into Jackson's troubled past.
Both men are soon enmeshed in the mystery of who killed the cop in the minimart, and engaged in a race against time to clear Kaden's name. But when the mystery is solved and the bullets stop flying, they'll have to deal with their personal complications… and an attraction that's spiraled out of control.
Review:
Amy Lane's new story is one that will keep your attention until the last page. Both the mystery aspect and the romance are well balanced and you will easily find yourself pulling for the main characters.
Jackson used to be a cop, that is until he tried to put away a dirty cop and the force turned against him. Now he makes his living as a PI. His family life leaves a lot to be desired. His father was out of the picture and for all intents and purposes so was his mother. That does not mean Jackson is on his own. Jackson has a family made up of those close to his heart. Kaden, his wife Rhonda, and Kaden's sister Jade grew up with Jackson and when he needed a safe place as a child; Kaden's mom invited him in. I loved the strong connection that existed between these four and it is easy to see that the family tie is one so strong that Jackson would go out of his way to save them.
Ellery is the totally opposite of Jackson. Where Jackson grew up on the streets, sometimes struggling to stay alive, Ellery was raised with money and doesn't know what it means to struggle. At the moment Ellery is a hot shot attorney working towards becoming a partner at the same law firm where Jackson is a PI. When Jackson's brother runs into trouble he calls Ellery, even though he and Ellery do not get along.
I really liked watching these two together. There is so much distrust, and rightly so, on Jackson's side that he has walls built around him a mile high. Ellery on the other hand can't imagine why he would want to spend any time with someone who likes to sleep with anyone on two legs. What is funny is that these two are so attracted to each other that they snip at each other so that they don't give their true feelings away. Of course once their working together the separation between them does not last long. The way they go from advisories to friends to lovers is well done and I loved how easy it was to see that they belong together.
Readers should watch out for the mystery aspect of this story. There are so many twists and turns that the outcome may surprise you. I felt bad for Jackson and can understand why he would feel so responsible for what happen. I was also surprised that Ellery turned out so tough and how he handled certain aspects of the case.
Fish Out of Water is a book that I will be re-reading again. I, and I am sure many other readers, would love to see these two show up again.
Reviewed by: Lydia
Click HERE to enter the Dreamspinner Press Website