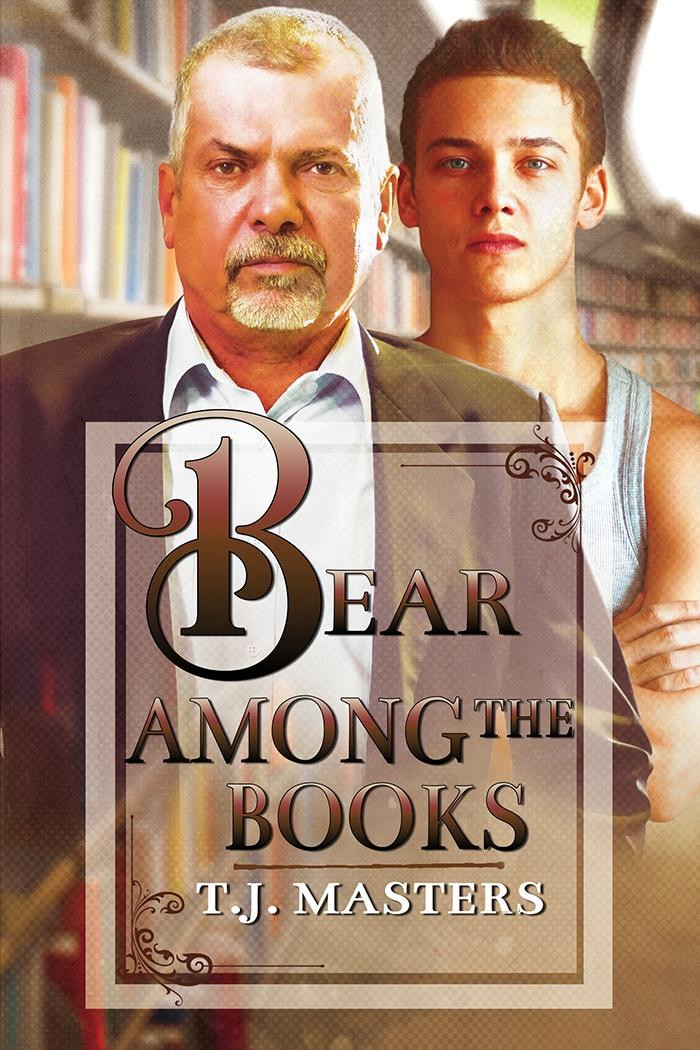 Title: Bear Among the Books
Author: TJ Masters
Publisher: Dreamspinner Press
Pages: 230
Characters: Ben Thompson, Jason Barnes
POV: 1st
Sub-Genre: May/December, Contemporary Romance
Kisses: 3



Blurb:
Forty-eight-year-old Ben Thompson is a librarian, a passionate book lover, and a man who embodies the definition of a bear. He's also lonely after the loss of his long-term partner. Young ex-gymnast Jason Barnes piques his interest, but Ben quickly realizes there's more to Jason than his good looks. While Jason visits the library almost every day, he never checks out a book.
With gentle persistence, Ben befriends Jason and learns the nineteen-year-old's tragic secrets. After years of abuse at his father's hands, Jason was kicked out of his family home for being gay. And despite his apparent love of books, Jason never learned to read. Ben offers to teach him, and the two men bond over their lessons. Ben can't deny his attraction to Jason, but he wonders if Jason is too young and too handsome to return his interest. With the help of the close-knit library team and Jason's growing self-confidence, they move beyond the books and into the bedroom, where their own story is just beginning.
Review:
Bear Among the Books is the first book I've read by TJ Masters. After reading this story I found myself appreciating the way the author really seems to get to the heart of his characters. Though I thought the story a tad bit slow at times, A Bear Among the Books is a sweet and thoughtful love story.
It's no secret that I'm a sucker for May/December romances, so when I read the blurb for this book, I was anxious to read it. Ben is a sweet and considerate man. He lives a quiet life, is liked by others and to any outsider seems to be a content men.
Except he's not.
Ben is lonely and beginning to really notice his age. Ben works hard and even swims to exercise, but as he gets older, he is beginning to believe that he will live the rest of his life alone. When he notices a handsome, young man wandering around the library, Ben immediately is drawn to him. There is something sad about this young man and there is a mysterious air about him that Ben is determined to find out.
When Ben formerly meets Jason he is taken back by the utter sweetness and charm of the much younger man. Though Jason is young, he has an old soul that really calls out for Ben to befriend him. As the two men begin to form a friendship, sparks begin to fly between them and both men are faced with the decision of whether their age difference will eventually become the doom of a lovely budding relationship.
I really liked both of these characters. Both Ben and Jason are honorable, interesting men. I liked who they were with each other and I enjoyed watching their relationship develop.
I did have some reservations about this story. I thought the story dragged some in the middle. I found myself actively trying to keep engaged in the story they had to tell. Though this is a sweet and sexy romance, it was a tad too easy and sugary for me at times.
Now please do not get me wrong. I did like this book and I enjoyed the characters. It's clear the author knows how to write compelling characters and I found myself liking and even admiring. I just wish the story had moved along at a faster pace and maybe I would have loved it instead of just liking it.
Recommended!
Reviewed By: Gabbi
Click HERE to purchase Bear Among Books