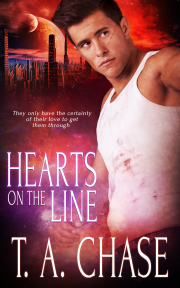 Title: Hearts on the Line
Publisher: Pride Publishing
Author: T.A. Chase
Pages: 154
Kisses: 4


Blurb:
Baxter and Addison are meant to die, but their love for each other won't let them choose that future.
In 2134, the United States of America no longer exists as the super power it once was. Americans fight to keep from being completely conquered by their enemies. Scientists have begun to genetically engineer soldiers to fight the war. These men are stronger, faster and more impervious to injuries. The soldiers are created in labs, and then once they are birthed, they are shipped to compounds where they are trained from their very first breath to fight.
Baxter and Addison are two such soldiers. They are from different compounds, but they serve in the same unit. Baxter isn't the most intelligent, and he knows it. His job is to kill the bad guys, and not to do anything else. Addison understands his place in the world, but he finds he wants more at times. He doesn't want just to be a killer. He wants to have some other kind of life, and he's discovered that he wants his life to be with Baxter.
When their unit decides to make a desperate run for the border and freedom, Baxter and Addison only have the certainty of their love to get them through the dangers they are about to face.
Review:
Hearts on the Line is a previous release by author TA Chase. The story has found a new home at Pride Publishing and if you did not read it the first time it came out, I suggest you try it know.
The story is set over a hundred years into the future. It tells the tale two men, genetically altered soldiers, hoping for a better future. Addison is in charge of one of the many groups of genetically engineered soldiers put in the worst areas of fighting. He has begun to realize that he, and others like him, is treated as nothing more than cannon fodder. So, without anyone in his unit knowing Addison has begun to make plans to run. By his side will be Baxter, his second in command. Over the years these two men have forged a bond that cannot be broken. In fact one of the reasons Addison starts thinking of leaving is Baxter getting hurt. These two men clearly have chemistry, but because of the conditions they live under, Addison has been afraid to make a move. I liked the way the author finally brought these two together, I also liked that while Addison thought he was keeping his feelings regarding Baxter to himself, both Baxter and the rest of their unit were able to see how strong Addison felt for him.
The excitement really begins when Addison, Baxter and the rest of the unit take off. Their trip to Mexico is not without problems especially when they end up with a group of kids who have been trying to survive on their own. The author did a good job keeping this part of the story hopping and a couple of times I worried that the group would not make it to their destination.
In a way this book mirrors some of what is going on in the world today. Ms. Chase makes this story very believable and I loved being pulled back into a world I had visited once before. While I did not see anything on either the publisher's or author's website about any sequels, Hearts on the Line would make a great series opener.
Reviewed by: Lydia
Click HERE to purchase Hearts on the Line by TA Chase