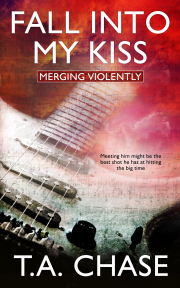 Title: Fall into My Kiss
Publisher: Pride Publishing
Author: T.A. Chase
Pages: 155
Kisses: 4


Blurb:
Will Hunter's life ever be more than an endless tour of small gigs?
Hunter Lee is lead guitarist of the alternative rock band, Merging Violently. He and his four friends travel up and down the East Coast, playing small gigs. It's not what he dreamed of when he founded the band, but it's a way to make a living. Meeting Edward Monterrose might be the best shot he has at hitting the big time.
Edward Monterrose doesn't have time for a relationship. He's too busy with his horses and students. Yet he always makes time for a benefit to raise money for charities he supports. While recovering from an injury, he overhears Hunter playing in the park and asks him to play at the benefit.
The two men come from different worlds yet discover they have more in common than they thought. Yet will their relationship last when they're apart for months on end?
Review:
Fall into My Kiss is the first book of the Merging Violently series. This story also has ties to the author's Home series. In fact one of the main characters, Edward, was introduced in the first book of the Home series and several of the secondary characters can be found in later stories in that series.
If you have read the Home series than you know that Edward raises, trains, and shows horses. During one of those shows, Edward is injured when his horse is unable to complete a jump. Forced to find something else to do while he is recuperating, Edward is kept busy putting together his yearly charity event.
Hunter is the other main character in Fall into My Kiss. Edward and Hunter are total opposites. While Edward is well to do, Hunter is a working stiff. For the last few years Hunter and his friends have been working hard to make their band a success. While they have come close a time or two, nothing has really panned out. At the moment Hunter and his friends have gone their separate way for a little R&R.
It is during that time that Hunter and Edward meet and fall in love. I liked the way the author brought these two together. The attraction between them is apparent from the beginning and I liked that the author did not have them fall into bed the day they met; rather she has the attraction build and the relationship moved in a way that is believable. I really loved the way Edward tells Hunter he loves him, and Hunters reaction made me smile.
Fall into My Kiss is a fast paced, easy read that fans of this author are sure to love. I wished the book would have been a little longer, but since this is the first story in the series I know we will see more of Edward and Hunter in later books. I cannot wait until the next book comes out and really hope it will be about Boris as I am dying to know what his secret is.
Reviewed by: Lydia
Click HERE to purchase Fall into my Kiss