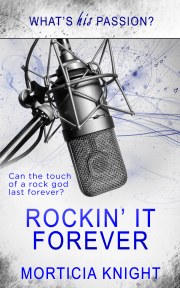 Title: Rockin It Forever
Publisher: Pride Publishing
Author: Morticia Knight
Pages: 194
Kisses: 4


Blurb:
Music journalist Bryan Gallagher's life has completely changed in an unexpected way. Not only has he snagged a dream assignment as the memoirist to alternative music's rock superstar Aubrey King, but he's also promised to give the beautiful and enigmatic musician a chance for them to forge a relationship. It's all very overwhelming for Bryan since, up until he spent a sexually charged day and night with Aubrey, Bryan has never even dreamed of being with a man.
Aubrey is completely smitten with the boyishly handsome, young rock writer, Bryan. After their instant spark grows into something more, Aubrey is desperate to keep Bryan by his side for always. He's promised Bryan that their love is for real, that Bryan isn't simply one of his rock star conquests.
Their road isn't an easy one, though. Despite their deepening bond and growing need for each other, other factors intrude. Neither Aubrey nor Bryan is ready to come out, and their relationship needs to remain a carefully guarded secret. In addition, Aubrey has to answer to the demands of his profession and Bryan has to traverse the shifting waters between his personal and business relationship with his famous lover.
Then a secret is revealed and everything in their joint world implodes. When a love is so strong that two men can barely take a breath without thinking of the other, will that be enough to bridge the loss of trust? The only way they can rock their love forever is if Aubrey can reach Bryan before it's too late.

Review:
Rockin It Forever is the newest book by author Morticia Knight. This is a story that fans of the music, especially rock and roll, theme will enjoy. I especially like how the author started the story and introduced the main characters.
One of our main characters is Bryan. He's an author who specializes in writing books about musicians. He's so good at his job that he's been requested to help write Aubrey's story. Aubrey is a superstar trying to restart his career. He's agreed to meet with Bryan but other than getting his story out there Aubrey isn't expecting too much. Both men are shocked by the instant attraction they feel and by the fact that they spent their first weekend together in bed. When it's clear that both want a relationship, the real problems begin.
I really liked this book. The characters pull you in to their story from the beginning. They are easily liked and you can't help but hope everything will work out for them. Because both men are in the closet and feel that it is important that they stay that way, I wondered just how that would end up affecting their relationship.
In the beginning the men are able to continue their relationship in secret and everything looks as if it will work out, yet, you are waiting for the next shoe to fall. When the angst enters the story, it hits big time and even though you know the author will be bringing you a HEA, you wonder just how she is planning to accomplish it.
Rockin It Forever is a book that I plan on re-reading again. Fans of this author are sure to love the story and if you have not yet tried anything by Ms. Knight, it is the perfect book to start with.
Reviewed by: Lydia
Click HERE to purchase Rockin It Forever by Morticia Knight