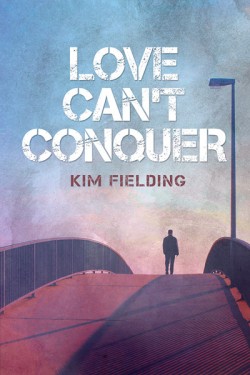 Title: Love Can't Conquer
Author: Kim Fielding
Publisher: Dreamspinner Press
Pages: 257
Characters: Jeremy Cox, Qayin Hill
POV: 3rd
Sub-Genre: Contemporary Romance
Kisses: 5+
Blurb:
Bullied as a child in small-town Kansas, Jeremy Cox ultimately escaped to Portland, Oregon. Now in his forties, he's an urban park ranger who does his best to rescue runaways and other street people. His ex-boyfriend, Donny—lost to drinking and drugs six years earlier—appears on his doorstep and inadvertently drags Jeremy into danger. As if dealing with Donny's issues doesn't cause enough turmoil, Jeremy meets a fascinating but enigmatic man who carries more than his fair share of problems.
Qayin Hill has almost nothing but skeletons in his closet and demons in his head. A former addict who struggles with anxiety and depression, Qay doesn't know which of his secrets to reveal to Jeremy—or how to react when Jeremy wants to save him from himself.
Despite the pasts that continue to haunt them, Jeremy and Qay find passion, friendship, and a tentative hope for the future. Now they need to decide whether love is truly a powerful thing or if, despite the old adage, love can't conquer all.
Review:
Love Can't Conquer is a beautifully written novel full of friendship, love, bitter disappointment and hope. From start to finish this gem of a story gave me everything I love when it comes to reading romance and more.
I loved the buildup between the two heroes. Both men are wonderfully flawed and truly likeable people. They are so realistically written they both would be someone that I would love to know in real life. Though good men, they are far from perfect and I highly enjoyed watching them work together through good and bad times and develop the special love they share between them.
Both men have their hangups but you'll have to read the story to find out what they are. I will say that I thought they were truly meant to be with one another. Qay struggles through life and Jeremy is the solid foundation he learns to lean on. This book has the perfect mixture of sweet moments, angst and even sad ones, but as I continued to watch their story unfold, I was swept up into the sheer hope that despite everything, it would work out between them.
Love Can't Conquer by Kim Fields is easily one of the best books I've read this year. If you are craving a well-written and well-rounded and balanced romantic read, then this is definitely the book for you.
Highly Recommended!
Reviewed By: Gabbi
Click HERE to enter the Dreamspinner Press Website