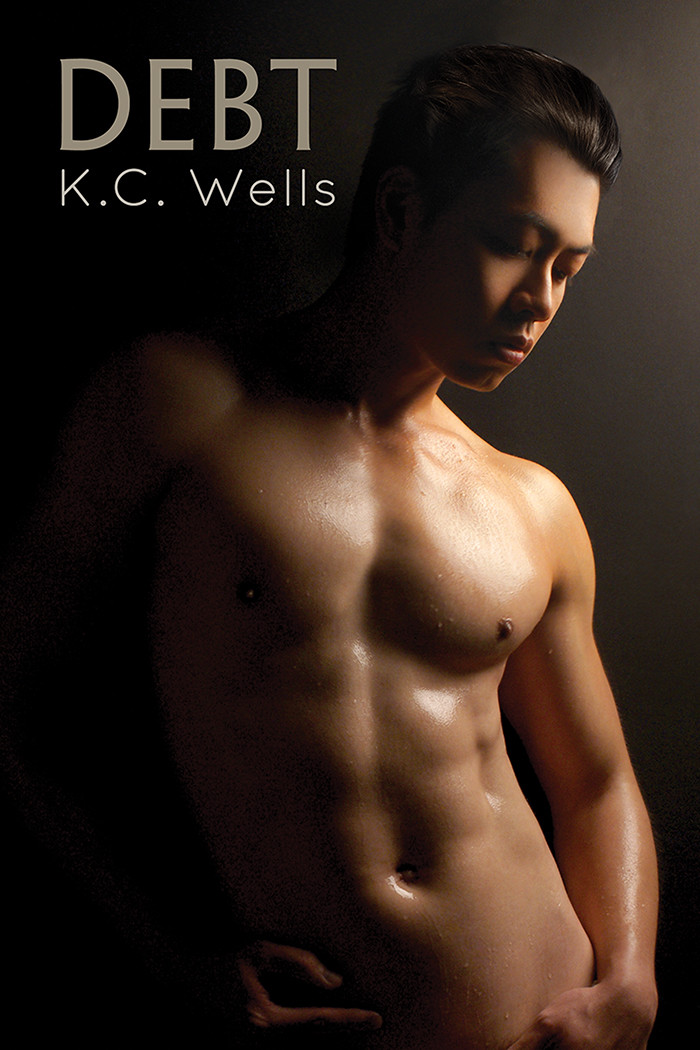 Title: Debt
Author: KC Wells
Publisher: Dreamspinner Press
Pages: 254
Characters: Mitch Jenkins, Nikko Kurokawa
POV: 3rd
Sub-Genre: Contemporary Romance
Kisses: 5+
Blurb:
Two months after Mitch Jenkins had the rug pulled out from under him when his two-year relationship came to an abrupt end, he is still hurting. A colleague's attempt to cheer him up brings Mitch to a secret "club." Mitch isn't remotely interested in the twinks parading like peacocks, until he spies the young man at the back of the room, nose firmly in a book and oblivious to his surroundings. Now Mitch is interested.
Nikko Kurokawa wants to pay his debt and get the hell out of the Black Lounge. Earning his freedom isn't proving easy, especially when he starts attracting interest. Life becomes that little bit easier to bear when he meets Mitch, who is nothing like the other men who frequent the club. And when Mitch crawls under his skin and into his heart, Nikko figures he can put up with anything. Before long he'll be out of there, and he and Mitch can figure out if they have a future together.
Neither of them counted on those who don't want Nikko to leave….
Review:
Where have you been all of my life, KC Wells? Oh my goodness! Somehow I've overlooked this author and believe me, after I read this amazing book, I'll be reading her backlist of books. Soon.
Debt is a magnificently told story about two fascinating men and the amazing love they shared between them. From the first page I immediately became wrapped up into the lives of these characters. It's no secret that I love a well-written May/December romance and KC Wells' story Debt is everything I love when it comes to reading a romance and more.
You know what was one of the things I loved most about this novel? Both men were genuinely NICE men. They are good guys who have amazing families but find themselves in several sticky situations…but the great thing about it was…NICE GUYS FINSH FIRST! I can honestly say that I want Mitch's family to adopt me…omg…the sheer love and support both he and Nikko receive from them was truly awe inspiring.
Debt will pull at all of your emotions. From happy moments to almost an ugly cry, I was totally emotionally satisfied when I finished this book. I loved every minute I spent reading Debt and can honestly say I PRAY Ms. Wells will write more about these characters. I want to know what happens next…there are loose ends that needs to be resolved, so I hope that this means she's got a gem of a story in store for us.
If you haven't read this book, do yourself a favor and read it. It's a beautiful story full of intrigue, friendship, family and most of all ROMANCE. Loved it and will probably reread it again in the near future.
Highly Recommended!
Reviewed By: Gabbi
Click HERE to enter the Dreamspinner Press Website