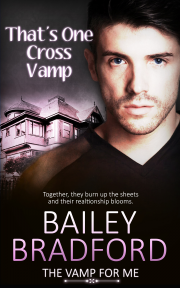 Title: That's One Cross Vamp
Author: Bailey Bradford
Publisher: Pride Publishing
Pages: 88
Characters: Erin Meyers, Jude
POV: 3rd
Sub-Genre: Paranormal, Vampire, Series
Kisses: 4
Blurb:
Death, taxes and vampires—the three certainties in Erin's life.
Erin Meyers knows all about the existence of vampires. He's the guy who helped his twin brother Andrew find true love with the kilt-wearing Radney.
Erin's used sex as a way to run from his emotions for a long time. It's become a habit that he's finally caught on to, and he's growing tired of it. In fact, he's growing tired too easily in general.
A doctor's visit leaves him fearing for his life. When he encounters a friendly vamp he knows out at the club, Erin breaks his no-vamps rule and takes Jude home with him. Together, they burn up the sheets, and Erin finds himself willing to spend more than one night with Jude. Soon, a relationship blooms, but the bad news Erin gets might put an end to any dreams he had for the future.
Review:
That's One Cross Vamp is the sixth book in The Vamp for Me series by Bailey Bradford. I've been anticipating this release because I've liked all of the books in this series. I've enjoyed each and every one of these books because each character is unique and interesting in their own way.
The series itself spans over a number of years, so we get to see how each couple continues to grow in their lives together. Erin is Andrew's brother who is mated to my personal favorite vampire, Radney. Though Erin has been surrounded by vampires for years, he has no desire to find a mate nor does he want to be a vampire himself.
Up until now, time has been good to Erin. He's an unrepentant playboy that has relished in his love 'em and leave 'em lifestyle. But, with time comes age, and lately Erin has started feeling the older and is starting to be bothered by being overlooked by younger men. Now, don't get me wrong, Erin still has it. He's still sexy and has his appeal, but his hustle and bustle lifestyle is beginning to catch up with him. When he begins to feel tired and instinctively knows that something isn't right with his health, he is forced to recognize that father time is creeping up on him faster than he'd like.
Jude has the patience of a saint. He's had his eye on Erin for the longest time and though Erin has shown any interest in being mated or hooked up with him, Jude holds out the hope that one day Erin will stop sleeping around and see him for the man he really is.
One of the things I really liked about this book was the sizzling chemistry between Jude and Erin. I truly enjoyed watching these two men develop something special between them. I also enjoyed the personal growth Erin goes through as the story progresses. We begin to see how his own personal views that he's held so tightly to him, slowly begin to unravel and even thrive under Jude's love and patience.
I'm truly sad to see this series come to an end. Ms. Bailey writes with a lot of humor mixed with just the right amount of angst. It's easy to care for her characters and enjoy the story they have to tell.
Although, this book could probably be read as a stand-alone in the series, I highly recommend reading the series in book order. This way you can fully appreciate each and every character and enjoy all of their stories.
The Vamp for Me books are:
My Life Without Garlic
Don't Stake My Life on It
Sunshine is Overrated
Don't Drink the Holy Water
The Trouble with Mirrors
That's One Cross Vamp
Recommended!
Reviewed By: Gabbi
Click HERE to purchase That's One Cross Vamp