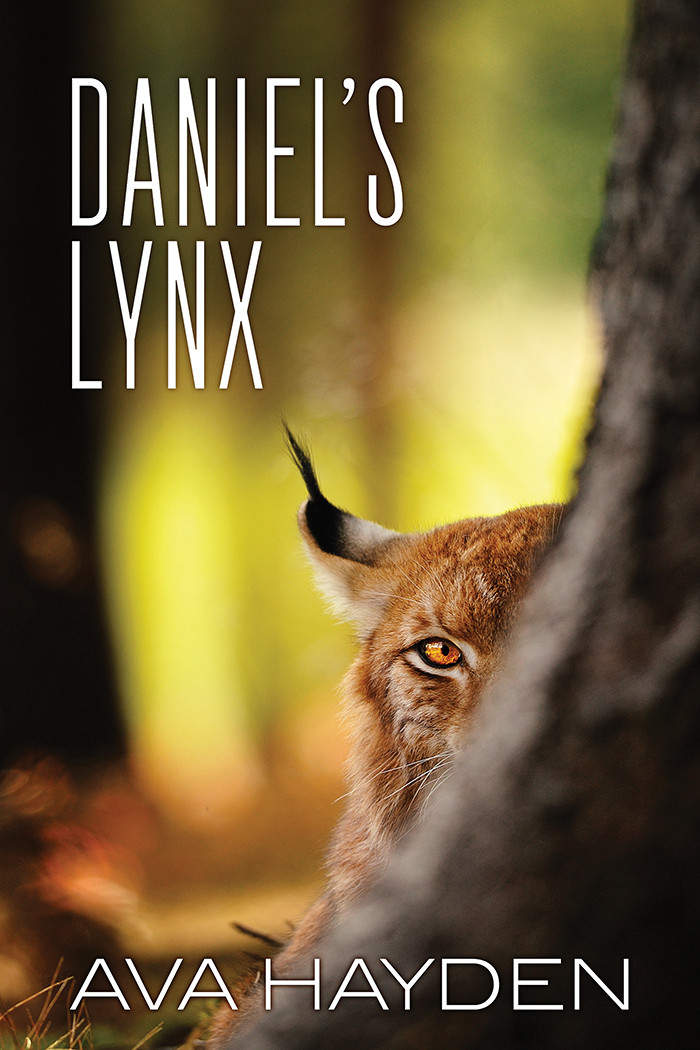 Title: Daniel's Lynx
Author: Ava Hayden
Publisher: Dreamspinner Press
Pages: 55
Characters: Daniel Rigaud, Ronan Magister
POV: 3rd
Sub-Genre: Shifter, Romance
Kisses: 4.5
Blurb:
Daniel Rigaud never imagined he'd be starting over at fifty-five, but relocating from his city practice to small-town Alberta to become the staff veterinarian at the Lac LaForge Wildlife Rescue Center might help him forget his deceitful ex—especially considering his handsome new neighbor, Ronan Magister.
At fifty-three, Ronan's given up on love and prefers to keep relationships short and sexual. It's easier than revealing his secret—he's a lynx part of the time. Something about Daniel makes him long for more, but telling the truth proves disastrous. Daniel believes he's traded one deceptive man for another.
If Daniel actually fell for Ronan's outrageous fabrication, then he might be worried that several animals were caught in poachers' traps near their homes that morning. He might wonder why Ronan isn't answering his phone….
Review:
I've read a lot of shifter stories and some are much better than most. I thought Daniel's Lynx had a fresh take on a well-loved genre. I really enjoyed the premise of the novel and loved the two heroes together. When it comes to a well-written shifter short story and romance, Ms. Hayden wrote a little gem of a story that left this reader with a smile on her face.
I liked that these two heroes are middle aged. They are perfect, but oh…were they perfect for each other. Daniel needs a change and moves from the big city to a small town in hopes to refresh and revamp his life. Sparks fly when he meet Ronan and as the two men get to know each other, I had the feeling they truly liked one another. Not only did the physical chemistry sizzle between them, I thought the genuine feelings the shared between them was one of the strongest driving forces in the story itself.
Daniel's Lynx is a very easy book to recommend. I enjoyed watching Daniel and Ronan's relationship develop into something special and like Daniel, totally fell in love with Ronan's Lynx. Daniel's Lynx is a quick and satisfying read and I enjoyed every minute of it.
Highly Recommended!
Reviewed By: Gabbi
Click HERE to enter the Dreamspinner Press Website