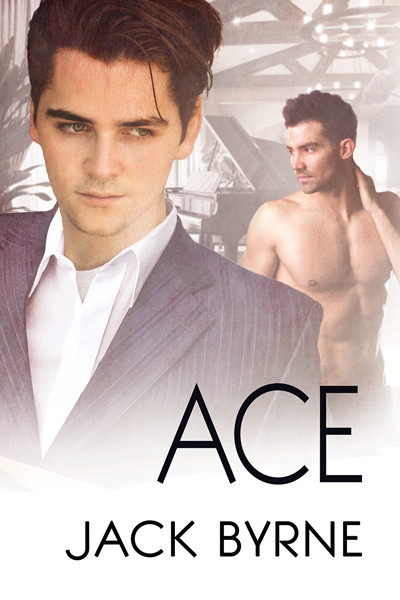 Title: Ace
Author: Jack Byrne
Publisher: Dreamspinner Press
Length: 61,216 words (novel)
Characters: Jake Tanner and Damien Jamieson
POV: Third Limited
Sub-Genre: Contemporary, Asexual
Kisses: 4.5

Blurb:
Jake Tanner is a gay asexual man who finds peace on his small Australian farm and is content to lead a quiet life taking care of his animals. Then a random act of kindness on his part sets in motion a complex series of events that results in him playing the piano in a local pub and meeting Damien Jamieson, a sexy gay biker with a penchant for leather. Damien finds Jake instantly irresistible, but that could be the worst thing for their budding relationship, as Damien is determined to bed the reluctant Jake. However, Jake has no intention of going along with his plan. If there's a chance for anything between them, Damien will have to figure out how to turn Jake on without scaring him off.
Review:
"Ace" is about a man who has given up on relationships because of his disinterest in sex, and a man who, underneath the façade of a man who knows who he is and where he's going, needs someone who needs him. I do have to admit that for me, this book really hit home. Not only am I an Aussie, but like Jake, I am asexual also and for a long time (also like Jake), didn't know that variation on sexuality even existed.
The book starts wonderfully, with Jake stopping traffic on a busy road to help an obviously terrified dog get off the median strip without getting hurt. That in itself endeared him to me. As did the fact it was set in Australia by someone who lives there (yes, I am proud to be Aussie :-p ).
Jake (and Damien's) struggles with Jake's asexuality are, at times, depressing, but unlike many relationships in the past where Jake has just had sex because his partners want it, Damien pays attention to Jake's body language, not just what he says, and recognises that having sex when Jake doesn't is rape, and refuses despite the fact he really wants to have sex with him. what's even more heart-rending (and true, not only from my experiences but also from other asexual people I have talked to), is that Jake is so used to having to have sex when he doesn't want to, just to keep a partner he is interested in that he doesn't realise it is rape. I think the main reason the relationship becomes stronger in the end is that the fact that Damien refuses to have sex when Jake doesn't want to, the fact that they both persevere through hurt and anger time and again, and the fact that not only does Damien push Jake to talk about himself but also shares the things about his own life that he never reveals that helps the relationship evolve to a point where they can both be happy.
Mr Byrne did an amazing job of telling Jake's story, and I would recommend this for anyone who is interested in reading an asexual romance story (for those who don't like reading sex scenes, yes, there are some), or anyone who just enjoys a good contemporary romance story. One of the reviews I read on Goodreads said that it seemed a bit too much like trying to "fix" the asexual, and yes, some may feel that way, but the way I read the story, Mr Byrne was very careful to point out that it was about finding a meeting point within the relationship, and getting the relationship to the point where Jake wants to have sex with Damien, than it was about compromising in a negative way or Damien forcing Jake to have sex because he wanted to be in the relationship. Mr Byrne was very careful to point out the differences between Damien and Jake's past partners from Jake's POV, and that while Jake didn't feel sexual desire, and it was rape (due to the duress), he could be aroused and if his head and emotions were in it he would enjoy it. I would like to point out that there is no such thing as "normal" asexuality, (eg, I will enjoy reading about sex if it is a necessary part of the growth of the story and not just there for titilation, yet another person who is asexual that I know won't read about it, and neither of us likes watching or doing it) and that if you want more information on the variations within asexuality, the AVEN site (www.asexuality.org) would be the best place to go.
I think one of the few things I didn't like was the way miles per hour was used instead of kilometres per hour as is the Australian norm, but I understand why the editors at Dreamspinner would have strongly suggested it. Although I have never read any other stories by this author, I will definitely be keeping an eye out in the future, and this one will be staying on my ereader.
Other good romances that I have read about people who are asexual are: "How Not to Summon Your True Love" by Sasha L. Miller, and "Of Monsters and Men" by Caitlin Ricci (the second in the A Forever Home series).
All in all, a great read with wonderful secondary characters, strong backstory, and a roller-coaster of a romance.
Reviewed By: Alison
Click HERE to enter the Dreamspinner Press Website