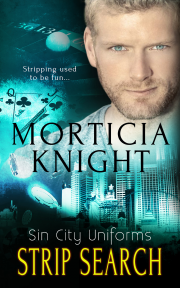 Title: Strip Search
Publisher: Pride Publishing
Author: Morticia Knight
Pages: 153
Kisses: 4.5


Blurb:
Stripping used to be fun, lucrative and a place for Dakota to practice for his professional dancing career. But the owner of Glitter Boys wants Dakota for himself and will stop at nothing to possess him. When his thirteen-year-old brother runs away from home to escape their abusive father, Dakota is determined to find him before something awful happens to him on the streets.
Patrol officer Reed hasn't been attracted to a man in a very long time, but when he's called to an assault in progress at the LGBTQ teen shelter, a young man approaches him, begging for help in finding his missing brother. An instant spark occurs, but he pushes it away. When the same man is attacked outside a strip club later that night, he discovers the desire is mutual.
As the two men learn more about each other and become closer, the specter of his obsessed ex-boss remains. In addition to that, Dakota has to fight the system to gain guardianship of his brother and keep him out of foster care. Dakota doesn't know if the hunky cop he's fallen so hard for can handle a relationship with an ex-stripper struggling to raise a teenager. But, will Reed be able to give up dating women for good and dedicate himself to their new family?
Review:
Strip Search is the seventh book in the Sin City Uniforms series. Like the other books in this series, Strip Search is a romance with a little mystery woven in. The main characters, especially Dakota, pull you in from the first page, so be ready to take a ride because this is a fast paced story that will hold your interest until the last page.
Dakota is a young man with the dream of being an aerial dancer in one of the casino shows. Unfortunately, to get there he has to work in a strip club. Working in the club however means he has to put up with an obsessive club owner. Hoping to make a break, he quits the club and tries to go somewhere else. But things don't work out the way he hope, thankfully Reed steps in.
Reed is a patrol officer in the LVPD. He meets Dakota one night while on a call and is immediately intrigued by the younger man. Later when Dakota is the victim of an attack, Reed is shocked by the protectiveness he feels for the other man.
I like the instant connection that exists between these two men. Their chemistry is hot and scorches the pages. Yet their relationship is not just about the passion. There is a friendship between the men that Dakota will find himself relying on when the search for his baby brother begins to take its toll. I like that the author made Dakota's search for his brother, as well as what happens to them later realistic, instead of making everything okay for them.
Readers of this book will find themselves eager to see what will happen and how things will end. The little twists and turns keep the story going and the way in which the story is wrapped up is well done.
I have become a fan of this author with the Sin City Uniforms series. I like the characters and the world she has created. The fact that the author brings back previous couples enriches each new book that is add to the series. I am curious as to where this series is going and will be keeping my eyes open for future stories.
Reviewed by: Lydia
Buy HERE