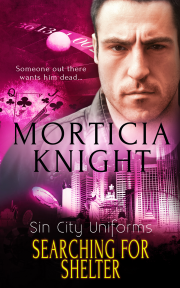 Title: Searching for Shelter
Publisher: Pride Publishing
Author: Morticia Knight
Pages: 145
Kisses: 4


Blurb:
Teen shelter volunteer Rich searches for love until Diego, from LVMPD Search and Rescue, finds him.
After declaring his love life officially dead, Rich wonders if maybe he should stick with his shifter book boyfriends instead. It's not as if he has much free time to date anyway. Between working long hours at a coffee shop, guarding his sodas from his hygienically challenged roommates, and running the programming at the Vegas LGBTQ teen shelter he founded—how could there ever be space for love in his life?
Diego Espinoza enjoys taking his downtime from working Search and Rescue at the Lucky Cup coffee shop. He can set up his laptop, peruse good sport climbing spots and observe the blond barista he's been pining over for a while. He imagines that the pretty boy has more offers than he knows what to do with, so it takes Diego time to work up the nerve to approach him.
Rich isn't so sure about the rough-looking Diego—even if he's always thought he was hot—but once he decides to gives Diego a chance, there's an immediate heat and connection that takes him by surprise. As they learn more about each other and try to find the way to a future together, strange and scary things start to happen.
It isn't until Rich is injured in a bizarre accident that it becomes clear that there's someone out there who not only doesn't want Rich to find love—they want him dead.
Review:
Book six in the Sin City Uniforms series, Searching for Shelter brings us Rich's story. Fans of this story may remember the young man who helps out at the teen glbt shelter. After his last crush went nowhere, Rich decides to focus even more on the shelter and his job. This is a character that readers are really sure to love. He puts his heart in everything, yet takes nothing for himself.
Diego is with the LVMPD. He has been interested in Rich for some time but is unsure about approaching him. The "official" meeting between these two is funny. Diego goes for coffee at the shop where Rich works almost every day. But Diego's looks have Rich forming the wrong opinion, so he is not sure how to take it when the big man asks him out. Later, at the shelter, when they meet again, Rich's reactions will have you laughing when he realizes that the thug from the coffee shop is actually a member of search and rescue. Both men are looking for "the one", yet past experience has them leery. The chemistry that exists between them has them hopeful, and I love watching that connection grow.
To keep things interesting the author throws a mystery into the mix and the way she does so is attention grabbing. After escaping his roommates, Rich witnesses a crime. While he did not really see much, the bad guys don't know that. Diego, out on what should just be a normal call, ends up losing a co-worker. While reading, you can't help getting the feeling that these two are connected in some way, yet it is unclear how. The readers will be thrilled with the little twists and turns that the author throws out there and as more is revealed they will be shocked by what is revealed.
There are a few light hearted moments in Searching for Shelter that will leave the reader laughing. First there is Artie. Rich's co-worker is over the top and has no idea about boundaries. It would be fun to see him get his own story. Then there is the roommate factor. I could not believe that Rich would live under the circumstances that he does. It is not surprising that he does not want Diego to pick him up at his home. While the grossness of the home may freak you out, the paper bag mystery will have you laughing, trust me. Finally there is the puppy factor at the end. This moment is so cute and I loved that Diego had things covered.
While there is a close connection between the books in this series, it is possible for each book to stand on its own. I would recommend reading the other stories however, as each is very good. I would also strongly recommend that readers, who have not yet tried this author, give her a chance. I am sure many will put her on their must buy list.
Reviewed by: Lydia
Click HERE to purchase Searching for Shelter