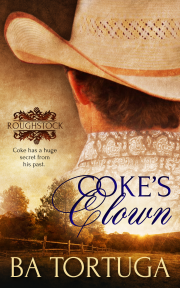 Title: Roughstock, Book 4: Coke's Clown
Author: BA Tortuga
Publisher: Pride Publishing
Pages: 198
Characters: Coke, Dillon
POV: 3rd
Sub-Genre: Cowboys, Romance, Series
Kisses: 5

Blurb:
How does Dillon take care of Coke when Coke's destroying himself?
Bullfighter Coke is having a rough time in the Roughstock universe. When his dear friend Sam Bell is injured at the finals of the bull riding season, he takes that and his injuries pretty hard. His very own clown, Dillon, is determined to take care of Coke, which is tough when Coke is usually the one to care for everyone. Coke has a huge secret from his past, though, and, when Dillon digs to discover what it is, the skeletons in Coke's closet threaten to destroy both men.
Review:
The Roughstock series by BA Tortuga is full of sexy, complex and well-written cowboys that live and breathe off of the written page. Ms. Tortuga creates a world of intriguing characters who are not only hardworking and loyal to those they love, they are just all-around amazing people I would consider myself lucky to call a friend.
I love all these men, but when it comes to Coke and Dillon, they are the two heroes in this series that has truly stole my heart. In my opinion, it is these two men that are the heart and soul of the series, and I for one, cannot get enough of reading about them.
Coke and Dillon are like beans and cornbread…they good alone but even better together. In other words, they simply make sense. They bring out the best in each other. They work through tough times together and always try to put the other man's well-being and needs before their own. When Coke is having difficulty dealing with Sam Bell being severely hurt, it only Dillon and some well loved friends that can bring him out of his dark existence and into the light. Between the love and friendship these two heroes have for one another, I literally read through this book quickly, finished it…and read it again.
I love this couple. I highly recommend reading this book if you loved the second book in the series, And a Smile. This is the book where Coke and Dillon give into their feelings and become a couple. Watching them continuously grow and evolve together is truly one of my all time favorite things to read. I hope Ms. Tortuga writes another book about them because I for one, can never get enough.
Although you could read Coke's Clown as a stand-alone book in the series, (don't do it…you'll love each and every one of these characters) I HIGHLY recommend reading these books in series order. The Roughstock characters interact with one another and each one has a story to tell. Between the dynamics of the characters and the well-told storyline, you'll want to read each and every one of them.
The Roughstock books are:
Blind Ride
And A Smile
File Gumbo
Coke's Clown
Reviewed By: Gabbi
Click HERE to purchase Coke's Clown