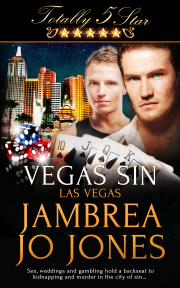 Title: Vegas Sin
Publisher: Pride Publishing
Author: Jambrea Jo Jones
Pages: 181
Kisses: 4.5


Blurb:
Sex, weddings and gambling hold a back seat to kidnapping and murder in the city of sin…
Owen Carpenter sets aside one night each month to relax at the Totally Five Star, but a case has just landed on his desk that has those nights disappearing for the foreseeable future. Someone is kidnapping women in Las Vegas and Owen needs to stop them before the women end up dead.
Harrison Boone is head of security at the Totally Five Star. He notices a man who comes in once a month and he wants to know more about him. When Owen introduces himself, there's an instant attraction between Harrison and Owen, but they are interrupted by a kidnapping—at his hotel. After Harrison leaves the military, the hotel becomes his life, so Harrison will do anything to keep the hotel out of the news and protect its reputation.
Can Owen and Harrison find love in Sin City, or will the case of the disappearing women crush what might be the best bet the men have ever placed?
Review:
Vegas Sin by author Jambrea Jo Jones is part of the Totally Five Star imprint published by Totally Bound Books. The books in this imprint can be found at Totally Bound as well as Pride Publishing. It is not necessary to read these books in order.
I was not sure how I would like this book as Vegas Sin lets you know who the bad guy is right from the beginning, however, this book grabbed a hold of me and did not let go until the last page. The characters, as well as the plot, are so well done that I had to see what would happen next.
Owen is a homicide detective with a lot on his plate. Between the job, caring for a mother who no longer knows who he is, and moving his sister and niece into his home, Owen needs his monthly night at the Totally Five Star. Problem is before his night can even start he's called back to work and finds himself working a serial kidnapping case.
Harrison is former military. After being injured by an IED, Harrison finds himself back home looking for work. He eventually lands a job at the Totally Five Star and works his way up to head of security. He's intrigued by the mystery man he catches on the hotel's cameras but figures there will never be a reason for them to meet. He never realizes on wrong he is.
This story has a few dark moments so it feels a little funny saying I loved watching Harrison and Owen get together, but it's true. While they are pulled together because of missing women and a possible connection to the hotel, the chemistry between them is strong and the relationship between them builds fast. I loved that from the beginning Harrison accepts Owen's responsibilities to his family and is willing to include them. I also like that Harrison is understanding of Owen's job and knows how important it is to the other man. The chemistry between them is strong and they really heat up the pages when they find time to be alone.
It is the mystery that really makes this story though. The bad guy in Vegas Sin is crazy with capital letters. I kept wondering when and how he would get caught. The twists in this story will keep you guessing; however it also makes it hard to say too much about the book without giving anything away. If you are looking for a good mystery I would strongly suggest that you give Vegas Sin a shot.
Reviewed by: Lydia
Click HERE to purchase Vegas Sin