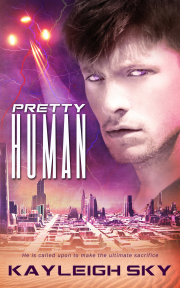 Title: Pretty Human
Author: Kayleigh Sky
Publisher: Pride Publishing
Pages: 294
Characters: Ellis ligoria and Jem
Sub-Genre: Science Fiction
Kisses: 4


Blurb:
Seeking absolution for his past in a fiery death, a young space force pilot crashes his ship on a desert planet.
When Ellis Ligoria, King of Xol, witnesses a spaceship hurtling to the planet's surface, he rushes to the scene of the crash and joins the search party for survivors. As night descends, a strange compulsion leads him to the site of an underground city. Here he rescues a badly injured Jem. During his recovery, it is discovered that Jem is part Xolan. Not only that, but he's a genetically submissive variation called a Xolani. Ellis has no wish to care for a Xolani but cannot resist his desire for Jem. Taking him under his protection, he brings him home to his family.
Desperately wanting this new life, Jem claims to be a solitary Vagabond, a loner without family or home. A man nobody wants or is looking for. Safe for the first time in his memory, Jem has hopes for a happy future. He is falling in love with Ellis and adores his new family. All he wants is to live a quiet life as Ellis' consort, but as his secrets sink him deeper and deeper into a prison of lies, he knows that he cannot hide his true identity forever. Marrying Ellis is a dream come true, but he'll never escape the brutal man he is running from.
Review:
Pretty Human by Kayleigh Sky is an interesting story with strong characters. This was a very easy read for me and I enjoyed the world Ms. Sky created.
When Jem decides to escape his unhappy life he is ship wrecked on the planet Xol. Here he finds out that he is a Xolani, a genetically submissive man. He claims to be a solitary vagabond in hopes of making a new life for himself on Xol.
Ellis Ligoria found Jem, and is instantly attracted to him. He has never wanted a Xolani but he cannot fight his strong feelings for the man. Then he brings him home to his family to help protect him.
But the past rarely stays in the past and when Jems past catches up to him the two men must face it head on. Ellis has to deal with the lies that Jem has told and Jem must deal with the monstrous man from his past.
Reviewed By: Jerry
Click HERE to purchase Pretty Human