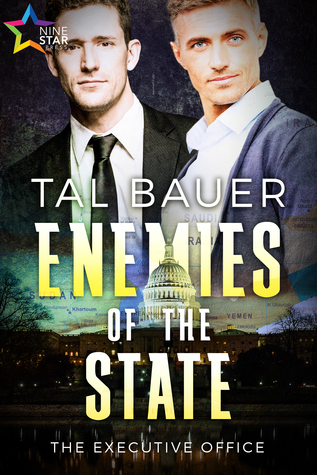 Title: Enemies of the State
Author: Tal Bauer
Publisher: Nine Star Press
Pages: 325
Characters: Jack Spiers, Ethan Reichenbach
POV: 3rd
Sub-Genre: Romantic Suspense, Erotic Romance
Kisses: 5+
Blurb:
A rogue Black Ops unit with the president in their crosshairs.
A Secret Service agent who will break every rule.
A president falling for the one person he shouldn't—a man.
Newly elected President Jack Spiers's presidency is rocked from the very beginning, and he's working furiously to keep the world from falling apart. Between terrorism attacks ripping apart Europe, Russia's constant posturing and aggression, and the quagmire of the Middle East, Jack is struggling to keep his campaign promise—to work toward a better, safer world.
For Special Agent Ethan Reichenbach, Jack is just another
president, the third in twelve years. With Jack's election, he's been promoted, and now he's running the presidential detail, which puts him side by side with Jack daily. He's expecting another stuffed suit and an arrogant DC politician, but Jack shocks him with his humor and humanity.
There are rules against a Secret Service agent and one of their protectees developing a friendship—big rules. Besides, Jack is straight as a ruler, and a widower, and Ethan has always avoided falling for straight men. Ethan keeps his distance, but Jack draws him in, like gas to a naked flame, and it's a lure he isn't strong enough to turn away from.
As the two men collide, rules are shattered and the world teeters on the verge of war, and a rogue Black Ops unit bent on destruction sets Jack in their deadly crosshairs. Ethan must put everything on the line in order to save the man he's come to love, Jack's presidency, and the world.
Review:
Wow! From cover to cover Enemies of the State by Tal Bauer is a roller-coaster ride full of thrilling and romantic moments. I was immediately swept up into the lives of these amazing characters. Between becoming quickly invested into their lives and the nail biting action and suspense, Enemies of the State is easily one of my all-time favorite books I've ever read.
Since the blurb does a great job at describing the story, I won't rehash a lot of it. I thought I'd talk about why I loved this book and why I consider it a desert island keeper.
Both of the heroes are well-written men who live and breathe off of the written page. Both men are wonderfully flawed men, who strive to do the right thing. As we all know, life is never easy. Since their relationship is a forbidden one, both men must work hard at keeping their love and the friendship they share between them alive and nourished.
I really liked how both Ethan and Jack really seemed to respect and love one another. Their relationship builds on friendship and trust and grows into a thing of beauty right before our eyes. They know they are not supposed to be friends, much less fall in love, but they are drawn to each other and though they fight it, they know they belong together if only they can keep their relationship under wraps and hidden away from the world.
Doing this is not an easy task. No one expects the President of the United States to fall in love with his bodyguard…much less a man, so there is much stress and guilt both Jack and Ethan have throughout the story.
Between their beautiful, complicated relationship and twists and turns this story has, I was on the edge of my seat wondering what was going to happen next. You see, it's not easy running the country and both Jack and Ethan must make some very hard decisions to keep the people safe…even if it's making some hard sacrifices.
I loved Enemies of the State and can't recommend it high enough. Do yourself a favor and check it out. You'll be so glad you did!
Highly Recommended!
Reviewed By: Gabbi
Click HERE To purchase Enemies of the State