Two Pet Dicks by John Inman
Title: Two Pet Dicks
Author: John Inman
Release Date: March 18, 2016
Category: Humor, Contemporary, Mystery/Suspense
Pages: 200
Old friends and business partners, Maitland Carter and Lenny Fritz, may not be the two sharpest pickle forks in the picnic basket, but they have big hearts. And they are just now coming around to the fact that maybe their hearts are caught in a bit of turmoil.
Diving headfirst into a whirlwind of animal mayhem, these two self-proclaimed pet detectives strive to earn a living, reunite a few poor lost creatures with their lonely owners, and hopefully not make complete twits of themselves in the process.
When they stumble onto a confusing crime involving venomous reptiles, which is rather unnerving since they're more accustomed to dealing with misplaced puppy dogs and puddy tats, they take the plunge into becoming real-life crime stoppers.
While they're plunging into that, they're also plunging into love. They just haven't admitted it to each other yet.
Under a Sky of Ash by Brandon Witt
Title: Under a Sky of Ash
Author: Brandon Witt
Release Date: March 21, 2016
Category: Contemporary
Pages: 270
More than an decade after leaving Colorado to attend college and escape his past, Isaiah Greene moves back and builds a life in Denver as a special education teacher. When he meets Ben Woods, the mentor of one of his students, the attraction is immediate. The revelations that they've both suffered traumatic childhoods form a bond between them.
Raised by an abusive grandmother, Ben is a recovering addict who has made a family with his construction worker boss, Hershel, and Hershel's husband, Daniel—drag queen ManDonna. Adding Isaiah to his life gives Ben a glimpse of a future he'd never dreamed possible for himself.
Both Isaiah and Ben are survivors, but when guilt drives a wedge between them, the past threatens to end their relationship.
Ben and Isaiah embark on journeys of self-discovery. Though their path will be difficult at times, humor and love find a way to bring light to the darkness.
The Worst Bad Thing by J.E. Birk
Title: The Worst Bad Thing
Author: J.E. Birk
Release Date: March 23, 2016
Category: Contemporary
Pages: TBC (Novella)
Scheduling for Cover Reveal (Feb. 23), Guest Posts, and Reviews (including Release Day Reviews). Text only ARC available.
Iceland, Stonehenge, London, Paris….
To the casual observer, it looks like a dream trip. For Tate O'Reilly, it's anything but. He's a man on a mission to rectify a critical mistake, and there's nothing to hold him back—certainly not friends or family. For Tate, it all comes down to one simple thing—he must fix what he has broken.
What he doesn't count on is meeting Gabriel Carillo. Gabriel is kind, mysterious, and seems to be on his own mission to ensure their paths keep crossing. But Tate's hiding an awfully big secret—one he's certain even Gabriel can't forgive.
Does a man's past have to determine his future? In the middle of cities filled with history, Tate is going to find out.
Bankers' Hours by Wade Kelly
Title: Bankers' Hours
Author: Wade Kelly
Release Date: March 25, 2016
Category: Contemporary
Pages: 290
Even though bankers' hours leave long weekends for romance, cosmic intervention is Grant's only option when money doesn't buy happiness and he's got virginity in spades.
Grant Adams is a twenty-six-year-old bank teller who's unlucky at love, yet hopelessly hopeful. After years of horrific first dates, he's convinced he's saving himself for true love. Surely he has bad taste in men because it couldn't possibly be his persnickety nature that's sent them packing.
Tristan Carr has been in a holding pattern since his daughter was born fifteen years ago, which suits his workaholic lifestyle just fine. This ex-Navy turned auto mechanic never wanted anyone interfering with being a weekend dad. For Tristan to rearrange his perfectly orchestrated life, a guy will need to be special. Or in the case of the newest employee at his bank, the guy will need to be adorable, shy, and open to the prospect of forever when it shows up at his window.
Bundles
Rock By by M.J. O'Shea
Title: Rock Bay (Bundle)
Series: Rock Bay
Author: M.J. O'Shea
Release Date: February 26, 2016
Category: Contemporary
Pages: 543
Buy Link
Read all three stories of small town romance in this exclusive bundle of M.J. O'Shea's Rock Bay series!
In Coming Home, Tally has to pull out all the stops to prove to Lex, his gorgeous boss at the local coffee shop, he was never really the jerk he seemed to be. If he can win Lex's heart, the rest of the town should be a piece of coffee cake. In Letting Go, can Mason learn to trust again and can Drew learn to let go of who he thinks he is? If not, a real connection is nothing but a pipe dream. In Finding Shelter, both Justin and Logan have come to town hoping to leave troubled pasts behind them. They are attracted to each other too, but Justin is wary. Will Logan's love, faith, and stubbornness be enough for Justin to believe their love is worth fighting for?
Audiobooks
Bully for You by Catt Ford
Title: Bully for You
Narrator: Cory Lord
Author: Catt Ford
Release Date: February 8, 2016
Category: Western, Daily Dose 2013
Length: 2 hours and 11 minutes
Buy Link
What could be hunkier than a cowboy? Not much, according to Martin Du Bois. He convinces two friends that a visit to the rodeo is every gay man's wet dream, and so the three of them gaily (and I do mean gaily) set off to watch cowboy asses in action.
A visit to a bar after the event gets Martin closer to the action than he ever thought possible, and he meets Jesse Cumberland, the man who caught his eye in the ring and made his rhinestones sparkle. Instant attraction leads to a one-night stand that gets under Martin's insouciant skin and causes him to rethink his determination not to get involved emotionally. When Jesse invites Martin to his ranch, the visit is almost derailed by Martin's realization that they lead very different lives. As a flaming city queer, he sees no way to fit with the solid, athletic Jesse. It's up to Jesse to see if he can change Martin's mind.
First Comes Marriage by Shira Anthony
Title: First Comes Marriage
Author: Shira Anthony
Narrator: John Solo
Release Date: February 9, 2016
Category: Contemporary, Dreamspun Desires
Length: 6 hours and 20 minutes
Buy Link
Their marriage was supposed to be all business….
When struggling novelist Chris Valentine meets Jesse Donovan, he's interested in a book contract, or possibly a date. The last thing Chris expects is a marriage proposal from New York City's most eligible bachelor!
Jesse's in a pinch. To keep control of his company, he has to marry. So he has valid reasons for offering Chris this business deal: in exchange for living in a gorgeous mansion for a year, playing the doting husband, Chris gets all the writing time he wants and walks away with a million-dollar payoff. Surely Chris can handle that. He can handle living with the most handsome and endearing man he's ever met, a man he immediately knows he wants in the worst way and can't have. Or can he?
Eyes Only for Me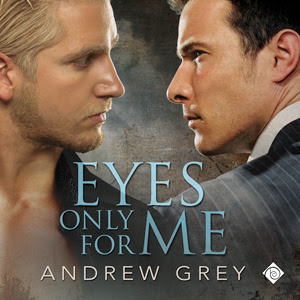 Title: Eyes Only for Me
Author: Andrew Grey
Narrator: Tristan James
Release Date: January 25, 2016
Category: Contemporary
Length: 6 hours and 19 minutes
For years, Clayton Potter's been friends and workout partners with Ronnie. Though Clay is attracted, he's never come on to Ronnie because, let's face it, Ronnie only dates women.
When Clay's father suffers a heart attack, Ronnie, having recently lost his dad, springs into action, driving Clay to the hospital over a hundred miles away. To stay close to Clay's father, the men share a hotel room near the hospital, but after an emotional day, one thing leads to another, and straight-as-an-arrow Ronnie make a proposal that knocks Clay's socks off! Just a little something to take the edge off.
Clay responds in a way he's never considered. After an amazing night together, Clay expects Ronnie to ignore what happened between them and go back to his old life. Ronnie surprises him and seems interested in additional exploration. Though they're friends, Clay suddenly finds it hard to accept the new Ronnie and suspects that Ronnie will return to his old ways. Maybe they both have a thing or two to learn.
Sleeping 'til Sunrise by Mary Calmes
Title: Sleeping 'til Sunrise
Series: Mangrove Stories
Author: Mary Calmes
Narrator: Greg Tremblay
Release Date: January 26, 2016
Category: Contemporary
Length: 2 hours and 12 minutes
Buy Link
Everyone in Mangrove, Florida, knows Fire Chief Essien Dodd is a saint. He took care of his ex-wife until she died, is raising his teenage daughter alone, and is the kind of man who pulls kittens from trees. All in all, the man's a catch. But Roark Hammond has sworn off getting involved with a man who's been hurt before because he can't guarantee he won't hurt his prospective love again. If only he could get Essien out of his mind long enough to focus on anyone, or anything, else.
Strong emotions are in play. Essien is lonely but determined to focus on Ivy; Ivy wants her father to have a new life so much that, to his horror, she's trying to find him a man; and Roark is so scared of the present and past, he won't allow himself to commit. To have any chance of sleeping 'til sunrise and greeting each new day together, Essien and Roark will have to rethink how they're living their lives and focus on what's most important.
Running with the Wind by Shira Anthony
Title: Running with the Wind
Series: Mermen of Ea Trilogy, Book Three
Author: Shira Anthony
Narrator: Michael Stellman
Release Date: January 26, 2016
Category: Werewolves/Shapeshifters, High Fantasy, Paranormal, Fantasy
Length: 7 hours and 36 minutes
With the final confrontation between the island and mainland Ea factions looming, Taren and Ian sail with Odhrán to investigate a lost colony of merfolk in the Eastern Lands. Upon their arrival, the King of Astenya welcomes them as friends. Odhrán, however, isn't so quick to trust the descendant of the man who held him prisoner for nearly a decade, especially now that he has someone to cherish and protect—the mysterious winged boy he rescued from the depths.
Armed with the knowledge he believes will save the Ea, Taren returns to the mainland. With Ian at his side, Taren convinces Vurin that their people must unite with their island brethren before it's too late. When Seria and his men attack, Taren must call upon the ancient power of the rune stone to protect his comrades. But using the stone's immeasurable power commands a hefty price—and Ian fears that price is Taren's life.
The Millionaire Upstairs by M.J. O'Shea
Title: The Millionaire Upstairs
Author: M.J. O'Shea
Narrator: Rusty Topsfield
Release Date: January 27, 2016
Category: Contemporary, Dreamspun Desires
Length: 5 hours and 26 minutes
Buy Link
He might be hard to work for, but he's impossible to resist.
Sasha Sobieski has the perfect job working at legendary American fashion house Harrison Kingsley—or at least he used to. He just never thought he'd have to work for Harrison Kingsley himself. Harrison is exacting, difficult, cold, and hands-down the sexiest man Sasha has ever seen.
After years at the top, Harrison Kingsley knows what he wants, when he wants it, and exactly how he'd like it to be delivered to him. What he wants most right now? His new assistant. Sasha is mouthy, opinionated, and he drives Harrison mad. Problem is, Harrison can never tell if it's with anger… or desire.