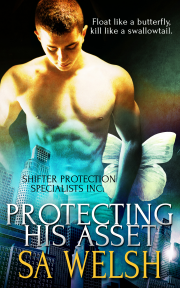 Title: Protecting His Asset
Publisher: Pride Publishing
Author: SA Welsh
Pages: 206
Kisses: 4.5


Blurb:
Scott knows his boring day is over the second a bloody and scared George Kelvin crashes into his office, claiming people are trying to kill him. He knows he should pass the case over to one of his brothers, but he can't seem to do it. The strength and resilience of the man mixed with a quirky sense of humor fascinate him. He may be a human in the company of powerful shifters, but he's just as deadly and well trained as the rest of his brothers.
With devious CIA agents, foreign forces gunning for what George possesses and George's power-hungry father, who is also Deputy Director of the FBI, Scott begins to wonder if he's bitten off more than he can chew.
George always knew his father was dangerous and cruel. However, he never thought that those titles would inadequately sum up the lengths his father is willing to go to, to get what he wants. The only chance he has is using whatever is on file against his father. Staying alive to do that is another challenge. When he runs into the Shifter Protection Specialists, Inc. office, he's desperate, but isn't convinced anyone can protect him from his father. Risking more than he'd thought possible, he discovers that maybe he is more than he's always been taught to believe.
One thing is for certain—his father is not going to give up easily.
Review:
Protecting His Asset is the second book in Ms. Welsh's Shifter Protection Specialist Inc. series. This is a shifter story with a whole lot of action thrown in. The series revolves around a private security agency primarily made up of shifters. The lone human is Scott. Although all his brothers are shifters, that does not mean that Scott can't kick a little ass on his own. He'll need that strength and more when George comes into the agency looking for help.
George's father is a man with a lot of power and he means to hold on to it, but George has found a way to bring him down and he means to use it, if he can stay alive long enough. On the run he finds himself at the Shifter Protection Specialist Inc. offices. Knowing he will be dead without help, he barges into the offices asking for protection. The first meeting between Scott and George is intense and with the way Scott behaves, it is hard to remember that he is human.
I loved the instant attraction between these two men, and the way Scott is so protective of George. What I love the most about this series though, is that the author does not stay with the standard shifters, instead mixing it up some by bringing in species we don't usually see in this type of story.
There is an unexpected connection between the first two stories that I think readers will like, and like the first book, this one also has many twists and turns. Protecting His Asset is a story that will hold your interest from first page to last, so make sure you're ready to be immersed.
According to the author's website book three is coming soon; however there is no date listed. I can't wait to see what the author has planned for this series as there are several of Scott's brothers left who need mates.
Reviewed by: Lydia
Click HERE to purchase Protecting his Asset