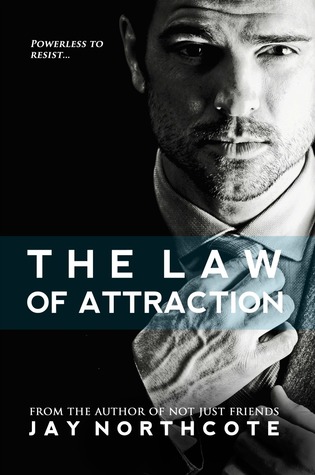 Title: The Law of Attraction
Author: Jay Northcote
Publisher: Jay Northcote
Length: 125 pages
Characters: Alec, Ed,
Kisses: 5
Blurb:
When a professional relationship turns personal, it's impossible to resist the law of attraction.
Alec Rowland is a high-flying lawyer in a London firm whose career is his life. He doesn't have time for relationships and his sexuality is a closely guarded secret. After picking up a cute guy on a Friday night, Alec's world is rocked to its foundations when his one night stand shows up in the office on Monday morning—as the new temp on his team.
Review:
This is a story which comes true all too often in the real world. Inter-office romances can become quite "sticky," without question. When I saw this story was set in England, I grabbed it to review having lived there for a small part of my life. Thank God, because otherwise, there are a couple of British phrases that would have made NO sense to me whatsoever!
This is a lovely story about two your men, one older than the other by a short few years, who meet in a pub, and the usual thing happens. The bolder of the two picks up the younger and whisks him off to the nest to be debouched. And a good debouching was had by both. In the morning, the young one is thrown out like yesterday's trash and resentment is felt by the victim of that shabby treatment.
When Ed, the younger one, reports to his new job on Monday morning, who does he find out is his new boss but his sexual liaison from the weekend? After the initials shock and panic, the two agree to keep their mouths shut, unlike when they were in bed, and keep everything secret. But alas, the best laid plans of mice and men often are want to fail.
A business trip to Scotland sends the two lawyers off to a hotel in Edinburgh to complete legal negotiations and while there, they explore the city and once again each other's bodies. This leads to the urgent beginnings of a love that is doomed to fail as Ed rejects an offer from Alec for a closeted relationship. Ed is out and proud and will not return to the closet, even for the beautiful Alec. Alec has no choice as his parents are homophobic and he is working towards partnership in the law firm that employs both men, and he has worked his entire life for that moment.
However, fate handles all our destinies and not our own hands or minds. I must confess that the ending of this story brought a tear to my eye as Alec struggles with self-realization, his parents, brother, and fears for his position in the firm, as we as his love for the man who can set him free from it all. The question is, does he take the hand of fate and find freedom?
Highly Recommended!
Reviewed by Patrick St. James