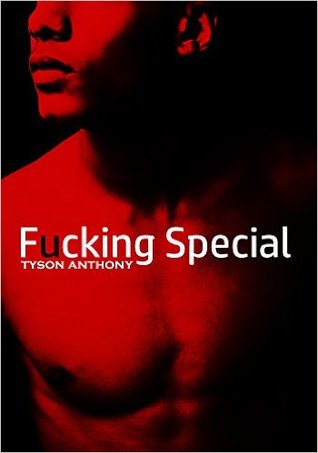 Title: Fucking Special
By: Tyson Anthony
Publisher: Tyson Anthony
Pages: 109
Characters: Brent, Shane, Dennis, Nathan
Genre: Gay Fiction
Kisses: 2
Blurb:
Shane is fucking special; the much sought after proof of that is flowing through his veins.
After barely escaping the attack of a mysterious stalker in a trench coat, Shane meets and is invited to the apartment of a handsome diner waiter named Brent. As the night progresses, Shane soon learns that not only is Brent, but also the waiter's temper mental roommate and fellow tenants of the apartment tower, are a bit fucking special in their own unique ways.
Shane's tale is coupled with the stories of a cursed lay, a troubled boy, a soulless drag queen, and a possessive romantic's. Introducing, the first book of a series, Fucking Special.
Review:
Fucking Special is a violent, sad tale of the sad lives of four men as they each deal with their particularly weird conditions and circumstances.
First I must say, this work needs an editor badly. If this work is already on the market, it needs to be pulled back fast and much work done on it. It is also confusing at times and to say the least, bizarre. It reminds me of a written version of Horror Hotel that Lady Gaga just finished up. The only reason it got two kisses instead of a single one, was the imagination that it took to put together this unusual, different, unsexy piece of work.
Basically the book tries to tell the story of two of the main characters, Brent and Shane. Shane is very "fucking special," and because he is, others want him for what he has inside of him. Brent, who becomes his sorta boyfriend, is also special in his own way. It doesn't pay to be Brent's boyfriend, because he's cursed. A curse was put on him to prevent him from becoming gay, which failed miserably in its intent but had dire consequences for everyone he encountered in a sexual way.
Nathan turns into a homicidal maniac, but with just cause.
As for Dennis, he's weird, trying to become a nurse, but beyond that this reviewer could not tell what precisely was the issue that made him weird. His "condition" can only be attributable to the atmosphere in which he grew of age.
As for the ending of this story, a rescue, and a resolving of the curse occurs. I find it hard to recommend this book to anyone in its present state.
Reviewed by Patrick St. James
Click HERE to buy Fucking Special