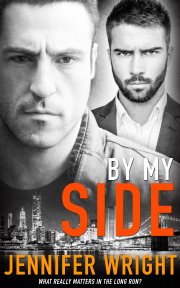 Title: By My Side
Author: Jennifer Wright
Publisher: Pride Publishing
Length: 61 pages
Characters: Noah Montgomery, Tate Fairfield, Shea Styles,
Genre: Gay Fiction/HEA
Kisses: 5
Blurb:
Noah has suppressed his urges for other men for years, but when a sexy bartender comes crashing into his life, all bets are off. Due to his career as a lawyer and his father's strict ways, Noah has always ignored the side of him that craves the touch of another man, not wanting to upset the calm waters of his life. But when he's out one night celebrating his friend's first win in a courtroom, Noah is taken aback by the raw lust that consumes him when he meets Shea. He wants to ignore what he feels for the man, but when Shea introduces a tantalizing side of sex that Noah has been dreaming of, he finds it impossible to keep Shea out of his life.
Review:
How does a bi-sexual man of some prominence deal with the temptation of a good-looking bartender that a close friend and co-worker introduced him to not knowing that his friend was bi? Could the guy with taste for both sides of life resist the siren's call for male companionship when it wasn't a regular feature of his life, but was brought back to life by meeting a man with a well-built body in a straight bar? Can countless one-night stands with women be the answer to the suppressed side of his nature?
Shea turns out to be both a nightmare and a dream for Noah. During the course of his self-discovery, Noah finds out that he's been suppressing more than just a desire to be with a man. When an alcohol fueled night ends up with Noah and the bartender in bed, Noah reacts at first with extreme relief but in attempting to deal with it, angers the man who has in one night fulfilled his fantasy.
The question becomes, can Noah repair the damage he has unknowingly done to potential relationship between himself and the hunk of his dreams.
This was a really good short story. It is a sexual roller coast that personally appealed to me greatly. In fact, it could very well be the fantasy of many gay men and the author wrote this story skillfully, electing a visceral response from this reviewer. While I personally have never experienced what Noah experiences, I would have welcomed it in my early years! If you want a story that will grab you and make you keep a napkin by your mouth to soak up the slobber, this is the story for you.
Highly Recommended!
Reviewed by: Patrick St. James
Click HERE to buy By My Side