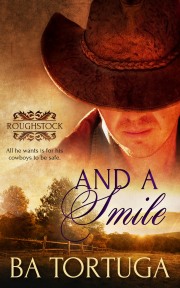 Title: Roughstock, Book 2: And a Smile
Author: BA Tortuga
Publisher: Pride Publishing
Pages: 173
Characters: Dillon Walsh, Coke Pharris
POV: 3rd
Sub-Genre: Cowboys, Series
Kisses: 5+
Blurb:
All Coke Pharris wants is for his cowboys to be safe—all of them. When rodeo clown, Dillon, sets to prove that there's more to the bullfighter, people could get hurt.
It's Coke Pharris' job to save bull riders from bulls, and he takes his work very seriously. Which is why he's devastated when one of his favorite riders gets hurt, and he's determined to help the young man ride again. Dillon Walsh is the arena entertainer for the bull riding tour, and he wants to help. He also wants Coke, has been admiring the man for a long time. He hasn't made a move on Coke for fear of messing up their friendship, but when he finds out Coke might feel the same way, Dillon has to try to win Coke over.
Coke thinks he's too old for Dillon, too beat up and scarred, but he can't resist when Dillon finally makes a play for him. Dillon is like a wet dream for Coke, and the two of them have a great time getting to know each other better, at least until the danger of their job threatens to come between them. Will Dillon and Coke be able to help their friend and weather the problems that blow their way?
Publisher's Note: This book was previously released elsewhere. It has been re-edited for re-release with Pride Publishing.

Review:
And a Smile by BA Tortuga is one of my all-time favorite books. Years ago, when I read the first edition, I immediately fell in love with the two heroes, Dillon and Coke. They have been my go-to characters when I feel a little blue or just need a cowboy fix. I think I've loved these two men forever and when I found out that it was re-released by Pride Publishing I couldn't wait to read it.
The story itself still captures my heart. The story begins with Coke and Dillon who have secretly been lusting/crushing on each other for some time. Because homosexuality isn't easily accepted in the rodeo circuit, they have kept their attraction to each other to themselves and have been content with the occasional flirtatious and friendly banter.
I LOVED watching these two men take a chance and finally admit their attraction and budding feelings they have for each other. Coke and Dillon genuinely like, respect, lust and truly fall in love with one another. Seeing their story unfold is truly a beautiful thing to watch happen. Not only do they develop an amazing friendship the sexual chemistry between them is truly off the charts HOT!
There isn't a lot of difference between the 1st and 2nd edition. There were a few things added and I do think the editing is much tighter, giving the story itself a smoother, fluid read. If you love the first version you'll definitely adore the second one too.
When it comes to romantic stories, And a Smile has everything I truly look for when it comes to reading romance and more. Ms. Tortuga's characters will bring a smile on your face, warmth in your soul and leave you with a happy heart.
And a Smile is the second book in the Roughstock series. The first book, Blind Ride is amazing as well. And a Smile could definitely be read as a stand-alone book, but I do recommend reading both books in order. You'll be glad you did! Ms. Tortuga writes amazing cowboys who are so easy to fall in love with.
Highly Recommended!!
Reviewed By: Gabbi
BUY HERE