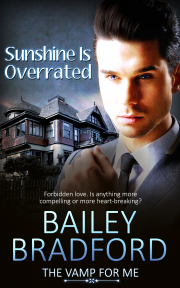 Title: The Vamp for Me, Book 3: Sunshine is Overrated
Author: Bailey Bradford
Publisher: Pride Publishing
Pages: 121
Characters: "Abbie" Abernathy Meyers, Claude
POV: 3rd
Sub-Genre: Paranormal, Vampire, Series
Kisses: 5+
Blurb:
Life with vamps is never easy.
Abernathy Meyers is already mated to a vamp, Zebulon. It's just too bad that Zebulon doesn't give a darn about him. Abbie's stuck with the man for eternity—or until they die. Some days, Abbie thinks that can't happen soon enough. He's tired of being treated badly, yet he doesn't really want to make his earthly exit yet.
Because he's longed for another man—another vampire—for years. Forbidden love—is anything more compelling, or more heart-breaking?
There's a twisted past, a hidden story linking Abbie, Zebulon and the coven leader, Claude.
Claude lives with a fear of turning to dust at any moment. It isn't reasonable, but he can't shake it. He's let his own fears impede his potential happiness, and instead he puts the needs of his coven first, ignoring his own. But if he's deliberately blind to one particular human's needs because that human is a mate to another vampire, then is Claude truly leading to the best of his ability?
It's a tough question for him to answer and soon, he'll have to make a choice that will affect him and Abbie, forever.
Review:
Sunshine is Overrated is the third book in the Vamp for Me series by Bailey Bradford. I haven't read the first book in the series, (I'll remedy this soon and post a review for it) but out of the two books I've read this is by far my favorite.
I totally fell in love with both of these heroes. Both Abbie and Claude are such likeable, flawed men who lived and breathed off of the written page. They are such an easy couple to root for, although there were times I wanted to shake some sense into both of them. But, once they get together…BOOM…it's nothing but fireworks and their hot chemistry really heated up my computer screen! Whew!
I admit, I wondered how the author was going to get these two men together. Abbie is unhappily mated to another vampire *who is not a nice guy* and Claude pines to have Abbie although he knows their feelings for one another is forbidden. Ms. Bailey did an outstanding job at writing a compelling, fast-paced storyline that kept this reader on the edge of her seat. I found myself wondering how things were going to work out and was thoroughly entertained by the story these two men had to tell.
I loved this book and can't recommend it high enough. I honestly can't wait to see what Ms. Bailey has in store for her clan of vampires next! I highly recommend Sunshine is Overrated for those who crave a well-written, sexy and thought-provoking romance.
The Vamp for Me series in book order are:
My Life Without Garlic
Don't Stake My Life On It
Sunshine is Overrated
Highly Recommended!
Reviewed By: Gabbi
BUY HERE