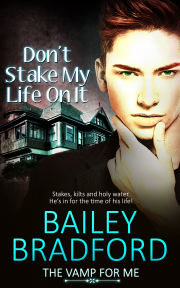 Title: The Vamp for Me, Book 2: Don't Stake my Life on it
Author: Bailey Bradford
Publisher: Pride Publishing
Pages: 119
Characters: Andrew, Radney
POV: 3rd
Sub-Genre: Vampire, Paranormal, Series
Kisses: 4.5
Blurb:
Stakes, kilts and holy water—Andrew Meyer is in for the time of his life!
Radney's tired of being the coven oddball. He had his reasons for being the way he was, and he let those reasons rule his life for centuries. Another mistake—almost harming a human he'd been sent to keep an eye on—has sent Radney on a mission of self-improvement. He's going to conquer his issues and be the best damned vamp ever!
Maybe.
Andrew Meyers has the term paper from hell to write. It needs to be original and intriguing. What could be more so than people with a vampire fetish?
But when that fetish turns out to be one he has, for a very sexy, kilt-wearing, neurotic vampire, the tables are turned. Andrew isn't prepared to find out that vampires are real, but he learns it anyway. With help from his twin brother, Erin, he just might be able to find a happy ending—or an ecstatic beginning—for him and his hot as hell red-headed vamp. If he's careful, and patient, he might even find the vamp for him.
Review:
Don't Stake My Life On It is the second book in the Vamp for me series by Bailey Bradford. Now, I've read MANY vampire stories and I've enjoyed some more than others, but this book had a very refreshing take on a well-used and much-loved genre.
For one thing, Radney is a misunderstood vampire. He has a tendency to get into more trouble than not and because of his tormented past, it has caused him to have some unconventional fears and behaviors you wouldn't expect from a centuries old vampire. When Radney meets Andrew, sparks things really begin to heat up for the both of them. Andrew is a stable, intelligent man who can't help but be charmed by the very sexy and mysterious Radney.
I really enjoyed the heated chemistry these two had together and loved the banter they had between them. Not only did I believe that these two men loved each other, I also found it easy to see how much they also LIKED each other too. Between the fast-paced story-line and sexy romance between the two heroes, Don't Stake My Life On It is definitely one of my favorite vampire themed books I've read this year.
Don't Stake My Life On It is filled with romance, mystery and intrigue. I loved the other vampires in Radney's clan and can't wait to see what Ms. Bradford has in store for us next! If you enjoy paranormal romances with sexy, interesting characters then Don't Stake My Life On It is definitely the book for you!
Highly Recommended!
Reviewed By: Gabbi
Buy Here