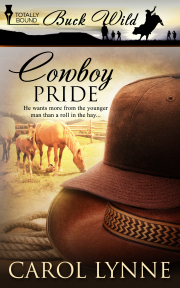 Title: Cowboy Pride
Author: Carol Lynne
Publisher: Pride Publishing
Pages: 73
Characters: Dub Walker, Shane Ackerman
POV: 3rd
Sub-Genre: Contemporary, Cowboy/Western, Erotic Romance
Kisses: 4
Blurb:
Two unconventional cowboys make an unconventional relationship work.
As owner of the Rocking W, Dub Walker's job is to make sure his cowboys keep their minds on their jobs and not the hot rough stock riders who come to the ranch to train. It hasn't always been easy for Dub to resist the sweet young things, but he's been doing less prowling since realising there's only one man on the ranch for him.
For years, Shane Ackerman has tried to prove to Dub that they're right for each other. Unfortunately, the man Shane loves and worships pushes him away at every turn. Instead of wallowing in self-pity, Shane does what any twenty-something man would do—has sex, lots of it.
Dub could easily take Shane to his bed, but he wants more from the younger man than a roll in the hay. With temptation around the ranch seven days a week, Dub knows monogamy will be a problem for both of them. With the help of a friend and a bit of soul searching, Dub discovers the only people qualified to define a relationship are those in it.
Review:
This is a very frustrating story. At first. There's misunderstandings and annoying side characters and so much sexual intrigue it'll make you hopping mad. Why can't Dub and Shane just get together, dammit? But… that's also why this story kinda works. Both men have their pride. Dub's hung up on preconceptions and petty jealousies, and Shane's a sort of a slut but with a heart of gold. Still, they're men, and as men it takes them a while to get to talking things through and really seeing one another. But, when they finally manage to negotiate a mutually satisfying relationship agreement, all bets are off.
Dub's hedging in starting a relationship with Shane is a bit irritating, his reasoning I mean. But, on the other hand, a man like him understands that monogamy enforced by society's standards doesn't always work for everyone.
There's a big section in the story where the two men have gone their separate ways, and there's sleeping with other men before Dub and Shane get together. If you consider that cheating, then steer clear. There's also a modicum of violence in this story, and an ample dose of irritating men.
In any case, this story ends abruptly, with several loose threads left unsolved, like what happens with Trent and Justice. That bugged me quite a bit. But there's a sequel involving Dub, Shane and Cash. I'm definitely looking forward to that. The romance ends up being quite sweet, not to mention hot between the sheets. A good cowboy story even though it ends sort of in the middle.
Reviewed By: Susan
Cowboy Pride-BUY LINK