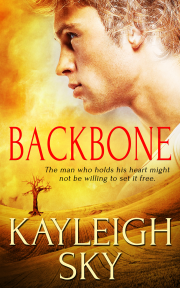 Title: Backbone
Author: Kayleigh Sky
Publisher: Pride Publishing
POV: 3rd
Pages: 232
Kisses: 4






Blurb:
Struggling to survive in a deadly new world, Brey Jamieson soon discovers that the man who holds his heart might not be willing to set it free.
A universal vaccine eradicates all known viruses from the human population, but in the wake of this miracle, a deadly new virus suddenly surfaces. As the death toll rises, people riot in panic and civilization collapses.
Brey Jamieson, a convicted felon, is suddenly set loose in this violent new world. Desperate to reunite with his family, he sets out on a journey across the country but is captured by a brutal man who plans to sell him into slavery.
Hank Kresnak is a cop in the new world. It is his job to preserve the law. But when he sees Brey, his belief in everything he has built his new life on begins to crumble. Memories of a dark and terrible time reawaken. He was the cop who arrested Brey, and with one look into Brey's eyes, he knew his life would never be the same. He was a married man with two daughters, but he couldn't forget a man he barely even knew. Now his wife and daughters are gone, and he must struggle to save the man of his dreams from a nightmare fate.
Review:
Backbone is another well done apocalyptic story that is sure to hold the reader's attention, but unlike other stories this one is more angst driven and touches on topics that may be hard for some readers. There is also a bit of a twist regarding how things went so bad.
Before the world went to hell, Brey was a rich kid with too much time on his hands and too many ways to get in trouble. When a night out with his boyfriend goes bad, Brey ends up in prison. Before the world went to hell, Hank was a cop. Married with two kids he hides the person he really is hoping one day that need to be with another man will go away.
Now everything is different and both men's lives are changed in ways neither expected. Those who survived the sickness that wipes out large portions of the population soon begin to make their own rules, not all of them make things better. For Brey it means his release from prison as there is no longer anyone to watch over things. Hoping to find his family he tries to make his way west, to California. Along the way he is kidnapped and made a slave. His life at this point is harsh, and I must admit the scene where Hank comes to his rescue almost made me stop reading this book.
Hank is still a cop, of sorts, but things have become so bad that at times he wonders what side of the law he really works for. He also continues to hide who he really is and forms a relationship with one of the local women. Hank was not an easy character to warm up to. There were times that I thought he was no better than the 'bad guys', especially with the way he treated Brey.
Backbone has a lot going on as both Brey and Hank try to come to terms with the way their lives are changing. There are also some changes coming to the town where the men live that will have a serious effect on their lives. I was actually surprised by some of what was going on. I do like the way the author wraps up the story as I was so worried that Brey would be facing disappointment once again.
This is my first book by this author and I am curious to see what else she has planned. Those who love this sub-genre are sure to enjoy Backbone and should think about giving the book a try.
Reviewed by: Lydia
Buy HERE