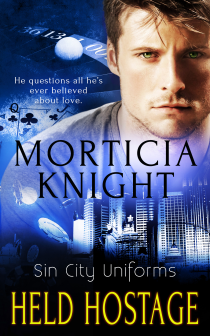 Title: Held Hostage
Author: Morticia Knight
Publisher: Totally Bound Books
Pages: 154
POV: 3rd
Kisses: 4








Blurb:
SWAT officer Cole can handle just about anything, until he rescues Brett—a man who makes him question all he's ever believed about love.
As a member of the Las Vegas Police Department's SWAT team, Cole has seen his fair share of danger, but he's never taken a chance on love. He's willing to have some fun when the mood strikes him, but he's married to the job. Called in on a hostage situation, Cole is prepared for anything and everything… Except for the brave and beautiful Brett.
Brett has been burned before, most recently by Officer Parker McLean. He's hoping to settle down in Vegas, perhaps find someone he can build a life with. The last thing Brett's looking for is another man in uniform, but when he meets Cole, there's an attraction that can't be denied. He doesn't expect to fall for the chiseled alpha, though.
What begins as nothing more than two people experiencing a great night together spirals into something far deeper. But will Brett be able to handle the stress that comes with having a lover who constantly puts his life in jeopardy? And can Cole risk his heart on an everyday hero, or will the job he knows so well remain his top priority?
Review:
Held Hostage is the fourth book in the Sin City Uniforms series. While part of a series, it is possible to read these stories as stand alones so don't worry if you have missed one. Like the other books in this series there is a slight mystery in this one that starts off almost from the beginning.
Brett has stepped down as district manager of a men's store with hopes that staying in one place will be beneficial to his social life. Now manager of the Las Vegas store he has a mess to clean up thanks to the last manager. His first week takes a turn for the worst, however, when he, as well as some of his employees and customers, are taken hostage by a mad man.
Cole is a member of the LVPD's SWAT team. While on duty, he finds himself responding to a call that brings him together with the gorgeous man he previously saw in a club the night before. This is not a typical first meeting, and not one that you would think would lead to a more permanent relationship; however that is just what happens.
Don't expect things to go smoothly for Cole and Brett however, as each man as issues that are not easily overcome. The chemistry between the men is intense though and with the strong attraction they feel for each other, they have no choice but to find a way to be together.
I like that several former characters, friends of both men, show up in Held Hostage to lend a hand and help Cole and Brett find their happily ever after. Fans of the other stories are sure to love this new addition as it is just as action packed, and intense as the previous books. This is also the type of story that those who have not yet tried this author could pick up and easily find themselves hooked. I have read several stories by this author and each new one makes me a bigger fan. I can't wait to see what she has planned for this series and hope the next story is not too far behind.
Reviewed by: Lydia
Buy HERE