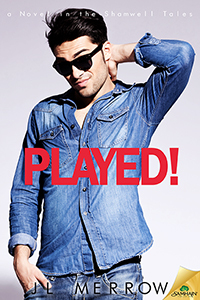 Title: Played!
Author: JL Merrow
Publisher: Samhain Publishing
Pages: 180
Characters: Tristan, Con
POV: 3rd
Sub-Genre: Contemporary Romance, Series
Kisses: 5




Blurb:
All the world's a stage…but real-life lessons are hidden in the heart.
The Shamwell Tales, Book 2
Though Tristan must join his family's New York firm at summer's end—no more farting around on stage, as his father so bluntly puts it—he can't resist when Shamwell's local amateur dramatics society begs him to take a role in A Midsummer Night's Dream.
The bonus: giving private acting lessons to a local handyman who's been curiously resistant to Tristan's advances. Not only is Con delicious, there's fifty pounds riding on Tristan getting him in his bed.
A late-diagnosed dyslexic, Con's never dared to act, convinced he'd never be able to learn his lines. But with Tristan's help, he takes the chance. Trouble is, the last time Con fell for a guy, he ended up getting his heart broken. And with Tristan due to leave the country soon, Con is determined not to start anything that's bound to finish badly.
Just as Tristan thinks he's finally won Con's heart—and given his own in return—disaster strikes. And the curtain may have fallen forever on their chance for happiness.
Product Warnings
Contains a surfeit of Bottoms and asses, together with enough mangled quotations to have the Bard of Avon gyrating in his grave.
Review:
JL Merrow has quickly become one of my favorite authors. I love the range of emotions I go through as I read her books and adore her witty sense of humor that really stands out in her stories.
What I loved about this story was the strong relationship between Con and Tristan. At first, you would think a working-class man and a actor wouldn't have much in common. Watching them meet, work through misunderstandings, become friends and fall in love was truly a joy to watch. These men had a true emotional bond and a kinship they shared between them that sizzled off of the written page.
I also enjoyed the personal growth they both experience during the length of the novel. In particular, it was great to see Con really come into a more confident man. He's already a nice and solid guy, but when he meets Tristan and grows into someone who becomes more self-assured and proud of his accomplishments. Even the cocky Tristan learns a lot from Con. I enjoyed watching him become a more understanding and patient man and adored the ways he showed his love and admiration for Con.
The story itself has a perfect balance between light and serious moments. There is an easy flow to it that makes it a quick and highly enjoyable read. Ms. Merrow is a master at being able to take command of her characters and sweep her readers into their intriguing, well-thought out lives. I love this series and can't wait to read the next book. It will be interesting to see what she comes up with next and I'm anxious to know more about the characters in her Shamwell Tales series.
Played is the second book in the Shamwell Tales series. Although it could be easily read as a stand-alone book, I highly recommend reading these books in series order. You'll easily adore all of these characters and will love the story they have to tell.
The Shamwell Tales series in book order are:
Caught!
Played!
Highly Recommended!
Reviewed By: Gabbi
Buy HERE