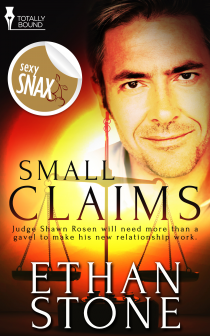 Title: Small Claims
Author: Ethan Stone
Publisher: Totally Bound
Pages: 81
Characters: Shawn Rosen, Jody Jacobsen
POV: 1st
Sub-Genre: Contemporary Romance
Kisses: 3
Blurb:
Judge Shawn Rosen is about to take on the toughest case of his life.
Small claims judge Shawn Rosen is comfortable in his career, but his personal life is another story. His twenty year relationship ended two years ago, but while he accepts the end, he hasn't even started to move on. He lives a generic life.
Everything changes when Jody Jacobsen walks into his courtroom and Shawn is attracted to him. Following the case, they have a chance meeting which leads to a wild night. Waking up to cold sheets should have been a sign, but instead Shawn keeps coming back for more and eventually falls fast and hard—so hard he might be missing the clues that the commitment isn't mutual.
There's trouble when the case that brought them together could also tear them apart. Will Jody give in to his tendency to run, or will he finally be the man that Shawn deserves?
Review:
I've been torn on what I'm going to rate this book. In the end, I decided on 3 kisses because as much as I loved the main hero, Shawn, I had trouble liking the other one, Jody, much at all.
The thing is…Mr. Stone knows how to write a story. I was immediately swept up into Shawn's life. It's easy to be intrigued by him. He's a likeable, lonely, successful, middle-aged man who misses his life as a happy family man with his former partner. Even though he loved the family dynamic, he is no longer in love with his ex, but still loneliness and sadness creeps in causing him to go through his daily life…without really living.
When Shawn is Jody's judge in small claims court, Shawn is surprised by the attraction he feels for the younger man (ten years). Jody awakens something deep inside of him, but Shawn is a professional and as soon Jody's case is over, Shawn figures he'll never see him again.
When they accidentally run into each other at a club, they are immediately swept into their attraction and intense desire for one another. Soon, they are having sex and to much of Shawn's dismay, Jody leaves the next morning without a note or a goodbye. When they meet again, Jody gives a reasonable explanation and Shawn forgives him.
This seems to be a pattern for Jody. When the chips are down, Jody runs. Now, Jody doesn't shy away from the truth. He is upfront about his tendency to run just when things get serious, so Shawn knows Jody is a little scared and flighty when it comes to matters of the heart.
In the end, I was okay with Jody being a little wishy-washy, but having said that, I was never truly convinced he will, in the end, stick it out with Shawn. He proves time and time again he can't be reliable and hurts Shawn throughout the story. I didn't like this. I thought Shawn could do better, but yet, I wanted Jody to get his crap together because I could see great potential with them being a great couple. Jody DOES come through in the end, but will he follow through and truly be the man Shawn thinks and hopes he could be?
Also, let me tell you, the sexual chemistry between these two men was HAWT. Whew! If they could live on sex alone, these guys would definitely get their happily ever after with no problem.
I also enjoyed the secondary characters in this book. They were interesting and obviously cared for Shawn. Shawn also goes a blind date that ends up being both embarrassing and funny…poor Shawn…he just needs a big hug!
I really hope Mr. Stone continues writing more about these two men. I'd love to see Jody really step it up, grow up and be the right man for Shawn, because Shawn really deserves it.
Small Claims is a smokin' hot read with two characters whose sexual chemistry practically smoked up my computer screen. Mr. Stone definitely knows how to write an enjoyable, thought-provoking read and I'm looking forward to reading more books by him in the future.
Reviewed By: Gabbi