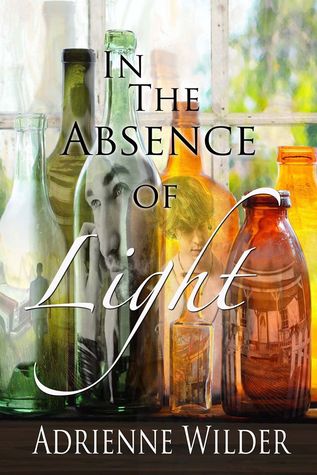 Title: In the Absence of Light
Author: Adrienne Wilder
Publisher: Adrienne Wilder
Pages: 333
Sub- Genre: Contemporary gay romance
Kisses: 5




Blurb:
For years Grant Kessler has smuggled goods from one end of the world to the next. When business turns in a direction Grant isn't willing to follow he decides to retire and by all appearances he settles down in a nowhere town called Durstrand. But his real plan is to wait a few years and let the FBI lose interest, then move on to the distant coastal life he's always dreamed of. Severely autistic, Morgan cannot look people in the eye, tell left from right, and has uncontrolled tics. Yet he's beaten every obstacle life has thrown his way. And when Grant Kessler moves into town Morgan isn't a bit shy in letting the man know how much he wants him. While the attraction is mutual, Grant pushes Morgan away. Like the rest of the world he can't see past Morgan's odd behaviors Then Morgan shows Grant how light lets you see but it also leaves you blind. And once Grant opens his eyes, he loses his heart to the beautiful enigma of a man who changes the course of his life.
Review:
I have been waiting for this book to come out for a while, and I have got to say it was so worth it!!
The blurb tells you about the characters, and touches on Morgan's issues but what it doesn't say is what an amazing man he is.
Grant has a plan. He plans to lay low and fix the house he bought and then disappear in a few years to live happily ever after on a beach, but once he meets Morgan that plan slowly starts to change.
If he can get over seeing and treating Morgan like he is less than himself, and see the amazing man that Morgan is, his life will change forever.
As Morgan meets the challenges of trying to show Grant he is more than his tics and odd behaviors. There were times, I laughed so hard I would have to put the book down until I could control myself, but soon I would start reading again and it would start all over.
I love it when a book has main characters that are less than perfect. Honestly, it just makes them perfect in my eyes and I thought the people of Durstrand are just as quirky as Morgan, and Grant doesn't stand a chance.
When Grant's past keeps following him around, and Morgan's past shows up, the angst level is off the charts! There were times I was in doubt if these beloved characters would get their happily ever after.
I can't recommend this book enough! You just have to experience this amazing writer on your own.
You should take my word for what an amazing book, In the Absence of Light, really is, once you read it, you will want to buy Adrienne Wilder's other works.
In my opinion, no library is complete without Mr. Wilder's books, My Brother's Keeper books 1 thru 3, Complementary Colors AND He Speaks Dead.
Believe me, they will be books you will want to read over and over…I know I do!
Highly Recommended!
Reviewed by: Cheryl
BUY HERE