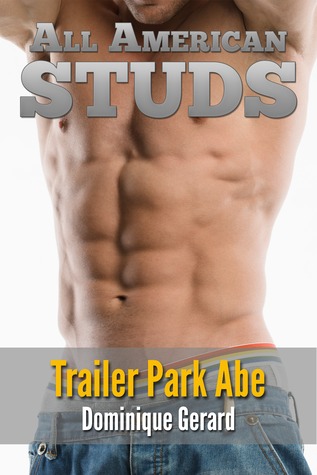 Title: All American Studs, Book 1: Trailer Park Abe
Author: Dominique Gerald
Publisher: Self-Published
Pages: 72
Characters: Atwood, Reece
POV: 1st
Sub-Genre: Contemporary, Erotic Romance, Series
Kisses: 3.75
Blurb:
Atwood was meant to achieve great things in his life. Instead, he had a shotgun wedding to his high-school sweetheart Jessica, and wound up slaving away every night, working six days a week in a meat packing factory to support his new trailer park family. His wife's been cheating on him. Their house is a dump. He's given up all hope of a better life when his brother-in-law comes up with a plan for Atwood to earn them a stash of easy cash … as an amateur performer on All American Studs, the hottest gay website on the internet. He takes on the role of Abe, a sophomore football jock in college. The solo video is a hit and he's invited back to film a duo, which comes with a far bigger payday. This could be Atwood's chance to leave the trailer park behind, and he might just find true love along the way.
Review:
Trailer Park Abe is the first book I've read by this author and I have to say it was a pretty HAWT read! Told in first person through Atwood's point of view, we get to experience his life and his journey to sexual discovery first hand.
At the beginning of the story, Atwood is a pretty miserable man. He works a job he hates, has a wife who is not only cheating on him, but hooked on drugs as well, and lives with her freeloading family whom are even more miserable than he is. Abe has always questioned his sexuality, but because of fear and an early shotgun wedding, he's pushed his attraction to other men aside. When his wife and her family suggest (and really put on A LOT of pressure) for Atwood to star in gay-for-pay porn to make ends meet, he somewhat reluctantly agrees. What he doesn't realize is how much this is going to change his life and free up his inhibitions toward being sexual with another man.
I liked this story. Atwood is a good man, albeit a bitter one. I was glad to see him get himself together and leave his wife and her horrible family behind. I also liked the journey Atwood goes through, as well as, his acceptance of his attraction and budding feelings toward his co-star, Reece.
Reece was simply adorable. I thought he was sexy, fun and an all-around interesting character. Although we don't get to know him as well as we do Atwood, I really enjoyed every scene they had together in the story. The story ends on a very positive note. It has more of a HFN ending than a HEA, but I have high hopes for these two men.
Trailer Park Abe is an erotic read that would be a good choice if you are in the mood for a quick, hot summer read. Although, I would have liked to have more romance between the two heroes, the chemistry between them made this a very enjoyable read for me. If you are looking for a strictly romantic tale, this might not be for you, as it is more of an erotic story, but it's still oh…so…satisfying. Since this is the first book in a series, I'm definitely interested in what the author has in store for us next.
Recommended.
Reviewed By: Gabbi