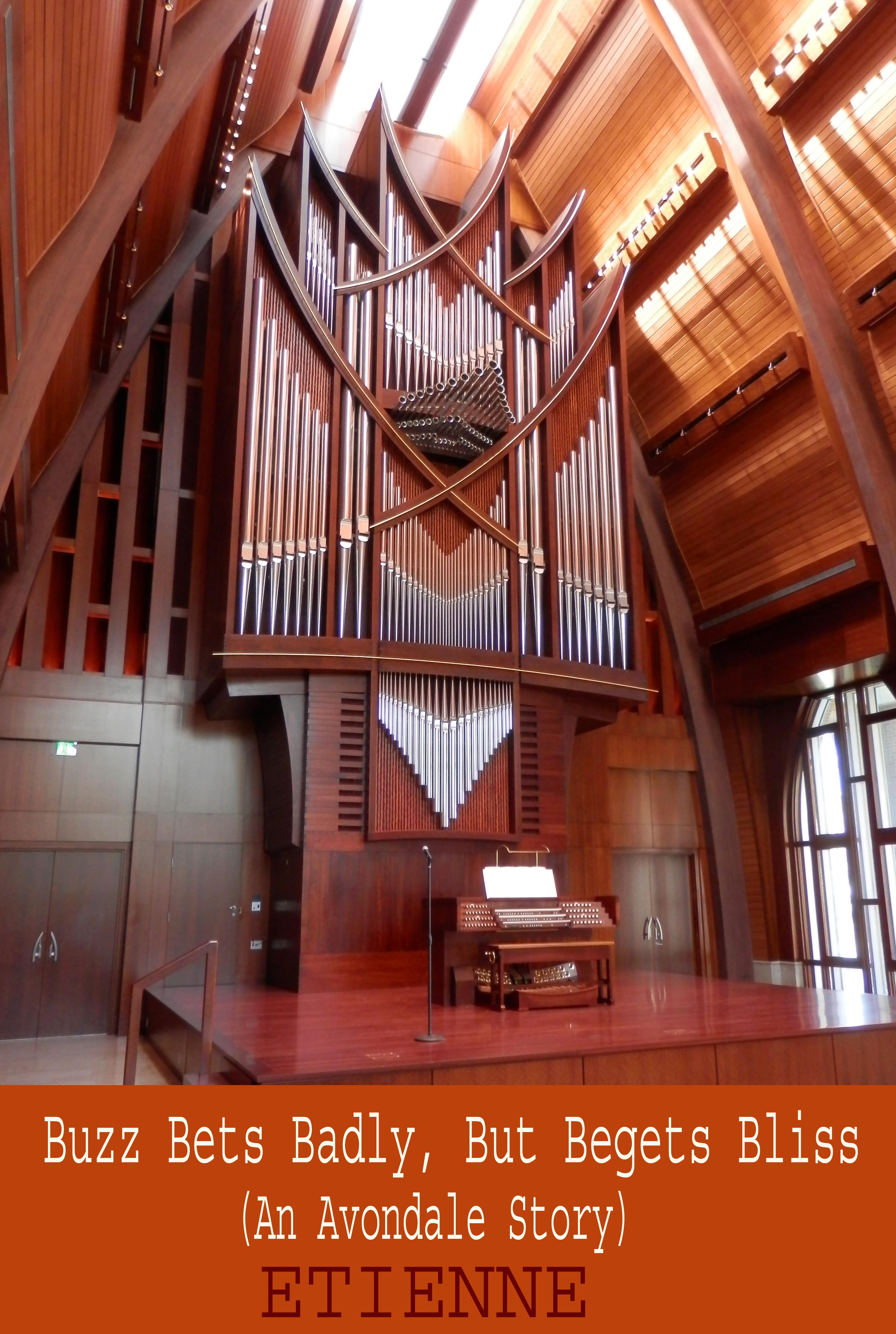 Title: Buzz Bets Badly, But Begets Bliss
Publisher: Smashwords
Author: Etienne
Pages: 342
Kisses: 4.5






Blurb:
Adam Yancey is about to graduate from college, with a degree in music at the age of eighteen. He's highly intelligent, totally goal-oriented, and anxious to begin working on a Master's and then a Doctoral degree, so he can pursue a career as a concert organist.
But what he really dreams of is having a loving relationship with another man—a relationship like his father and his father's partner have. Unfortunately, Adam has a secret. One he feels certain will prevent him from ever having such a relationship.
Buzz Patterson is a jock and a track star, and all he wants out of life is to get laid—as often as possible. Then one day, his buddies goad him into betting that he can find out if Adam's long fingers fulfill the old saying about long fingers being an indication of length elsewhere.
Buzz has all summer to win the bet, and he begins to actively pursue Adam. Will he win the bet? Or will he wind up getting more than he bargained for?

Review:
Buzz Bets Badly, But Begets Bliss is author Etienne's latest addition to the Avondale series. This is a coming of age story about two young men with nothing in common who come together and soon find they were meant for each other. While this is a story in which the two main characters are in their late teens – early twenties, the issues they face are in no way trivial.
While I loved the book, there are a couple of things, for me that stood out. One is the way the two young men meet. Buzz sees Adam sitting by himself in the student union. While he is intrigued, it isn't until after Buzz is talked into betting on whether or not he can see Adam naked, that he approaches the young man. This is not a new plot line, however, the fact that the author does not draw this part of the story out, and in fact reveals the bet early, kept the story from being like the others out there. The second is the way the author handled Adam's secret. Readers will be surprised by the maturity Adam has for one so young and will want to see him get his happily ever after.
As a fan of Etienne's, I look forward to each new book. His stories are always well written and the characters pull you into their stories. This is an author that is one of my must buys and one I strongly recommend his work to others who like to read m/m books.
Reviewed by: Lydia