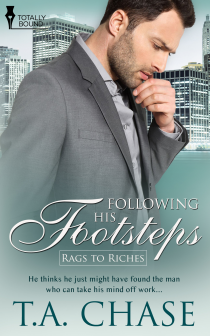 Title: Rags to Riches, Book 3: Following His Footsteps
Author: TA Chase
Publisher: Totally Bound
Pages: 102
Characters: Winston Tennant, Patrick Gaverson
POV: 3rd
Sub-Genre: Contemporary Romance, Series
Kisses: 4.25




Blurb:
Being just like his father is what scares Winston the most.
Winston Tennant came to New York to work. After burying himself in his job for the several years, he's afraid he's becoming like his father. Cold and indifferent, Winston's father only wanted his son as a way to continue the family line. When Winston came out, he was disowned. His best friends do their best to keep him from his father's fate. And when Winston meets Patrick Gaverson, he thinks he just might have found the man who can take his mind off his work.
Patrick Gaverson never imagined that Winston Tennant, head of the London office of Bellamy International, would be interested in a mere personal assistant like him. Yet after a not so subtle set-up by his boss and his best friend, Patrick finds himself on a date with Winston. He discovers that Winston is a lot more down to earth than Patrick thought.
Falling in love so quickly shouldn't be easy, but Patrick's willing to take a chance that it will last more than a week.
Review:
Following his Footsteps is the third book in the Rags to Riches series. When I started this book, I didn't know it was in a series. Once I realized it, I immediately stopped reading it (I was almost finished) and read and reviewed the other two books first. I'm glad I did. Following his Footsteps is definitely a good read, but since I took the time to read the books in series order, when I re-read it, the story became a more solid one. I was also more attached to the characters, so in all honesty, it was much better the second time around.
I really liked the characters in this book. Both Patrick and Winston are likeable men. Patrick has more of an easy-going, fun attitude and Winston has a serious, stiff-upper-lip personality. Even though they are totally opposite, they really fit well together. I liked how Patrick was able to get Winston to relax and enjoy life, while Winston brought out more of Patrick's mature side.
The story moves along pretty smoothly. The deep attraction between the two men keep it a fast-paced and passion-filled read. There were some areas in which I thought some things were breezed through too quickly. In a way, I felt like I missed out on some important communication, as well as, the way their relationship evolved, but all in all it's a really good read and a great addition to the series.
I highly recommend reading these books in series order. The Rags to Riches books are a sizzling, hot series and would be a perfect summer read. Fans of TA Chase will surely enjoy this series as much as I have. I can't wait to see what she has in store for these characters next!
The Rags to Riches series in book order are:

Remove the Empty Spaces
Close the Distance
Following his Footsteps
Highly Recommended!
Reviewed By: Gabbi