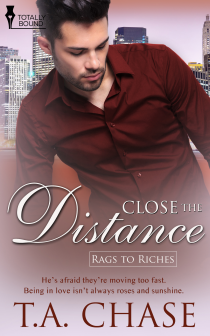 Title: Rags to Riches, Book 2: Close the Distance
Author: TA Chase
Publisher: Totally Bound
Pages: 102
Characters: Ion Vasile, Adrien Bellamy
POV: 3rd
Sub-Genre: Contemporary Romance
Kisses: 4.5
Blurb:
Being in love isn't always roses and sunshine.
Ion Vasile and Adrien Bellamy start dating and fall in love quickly. As their relationship grows stronger, Ion discovers the fragility of his family ties. As his mother turns against him and his brother seems to be supporting her, Ion begins to lean more and more on Adrien.
Adrien wants nothing more than to be strong for Ion and share his own family with him. Yet he's afraid they're moving too fast. He doesn't want to scare the most marvellous man he's ever met away.
When tragedy strikes, they both realise life is too short to let fear rule their choices.
Reader Advisory: This book is best read in sequence as part of a series.
Review:
Close the Distance is the second book in, TA Chase's, Rags to Riches series. Although I really liked the first book, I enjoyed this story even more. The characters are better developed and I got the sense of knowing them better as the story progressed.
The story begins where the first book, Remove Empty Spaces, ends.
Ion and Adrien have confessed their love for each other, but their relationship is still very new. Soon they are faced with Ion's parents still not accepting Ion's sexuality as they slowly start allowing others to know of their relationship. Plus, both men are concerned that their relationship is moving very quickly and are forced to come to terms with what feels right to them, irregardless of what others may think.
I really loved this story. I enjoyed watching Ion and Adrien's relationship deepen into a very strong bond and loved how they really come to rely on each other. I also liked how the author did not sweep some of the issues that arose between them under the rug. Both men faced these obstacles face on, together, and it made me appreciate them as a couple even more than before.
It's easy to really stand behind these characters and the relationship they have together. Not only is Ion and Adrien's a strong one, I also really loved the friendship the men had with the supporting characters. I'm definitely looking forward to reading more in this series and can't wait to see what happens next.
Although Close the Distance could probably be read as a stand-alone book in the series, I do NOT recommend it. To fully appreciate these characters and their relationships, I would read the first book, Remove Empty Spaces, first. Ms. Chase really gets to the heart and soul of her characters. The story they tell is a sexy, well-told one that brought a smile to this reader's face after a long, hectic day.
Highly Recommended!
Reviewed By: Gabbi