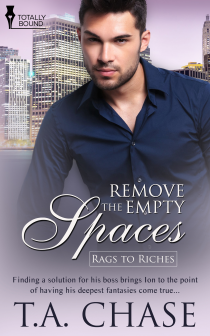 Title: Rags to Riches, Book 1: Remove the Empty Spaces
Author: TA Chase
Publisher: Totally Bound
Pages: 97
Characters: Ion Vasile, Adrien Bellamy
POV: 3rd
Sub-Genre: Contemporary Romance, Series
Kisses: 4
Blurb:
Finding a solution for his boss brings Ion to the point of having his deepest fantasies come true.
Being a mailroom clerk is a stepping stone for Ion Vasile. He doesn't plan on working in the basement at Bellamy International forever. Ion spends a lot of his time fantasising about Adrien Bellamy, CEO and President of the company. He's sure Adrien doesn't know he exists.
Adrien Bellamy does know Ion exists. Even with all his money and power, Adrien isn't sure Ion would want to go out with him. So he keeps his distance from the gorgeous mail clerk.
After Ion finds a solution to a troubling acquisition, Adrien takes a chance and asks him out. Their attraction runs red-hot, and a serious relationship becomes a possibility. But first they have to deal with their families and the differences pointed out between them. Adrien must find a way to convince Ion his lack of money and name doesn't mean anything because Adrien loves him no matter what.
Review:
Remove the Empty Spaces is the first book in the Rags to Riches series by TA Chase. I've read several of Ms. Chase's books and I've liked them all. Ms. Chase has an easy writing style that I enjoy and her characters are interesting people.
What I liked about this book was the realistic approach to Ion and Adrien's relationship. Ion is working his way through college. He starts off working in the mail-room, but as soon as he shares a brilliant idea that will help Adrien's company, he is promoted as a junior researcher.
Adrien was born with a silver spoon in his mouth, and although he comes from wealth, he works hard to maintain his company's good reputation. He was once a playboy, but once he took a chance and asked Ion out, Adrien begins to feel something deeply between them.
Since Adrien and Ion come from different social status, there has to be a compromise from both men. Ion doesn't want to be a 'kept' man, but knows there will be times when Adrien will want to buy him gifts or have to help him out in some ways. On the other hand, Adrien is beginning to realize that Ion comes from more meager means, and has to respect their differences.
I liked how these two men really want their relationship to work out. Although their feelings become strong, they are trying to keep from rushing into it too fast. Also, there is an age difference between the two men and although they haven't had to deal with the gap too much, Ion has to come to grips with the fact that Adrien has had some lovers in the past.
I really liked this book. It has an interesting storyline that is very smoothly written. I also enjoyed watching these two men fall in love and I'm anxious to see how their relationship continues to grow. The book does end kind of abruptly, so be prepared to start the next book in the series, Close the Distance. I'm definitely looking forward at seeing how everything between them turns out.
Remove the Empty Spaces is a sexy, quick story that would be a great choice if you're looking for an easy summer read.
Recommended!
Reviewed By: Gabbi