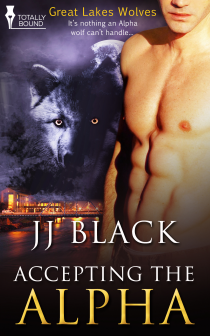 Title: Accepting the Alpha
Publisher: Totally Bound
Author: JJ Black
Pages: 141
Kisses: 4.5






Blurb:
Can an Alpha wolf convince his straight mate to give love a chance, before an unexpected enemy tries to rob them of all they hold dear…even their own lives?
Eli Steele is a wolf without a pack. An invitation from his best friend, brings him to Grand Rapids, and a meeting with the local Alpha changes Eli's life in ways he ever expected.
Kellan Reeves, Alpha of the Grand Rapids Pack, had lost hope of ever finding his mate until Eli came to him, looking for a pack. Realising Eli is his mate, he feels things couldn't be more perfect…discounting the angry pack Eli left behind. There's also the insignificant fact that Eli's not gay. It's nothing an Alpha wolf can't handle.
While Eli struggles to understand his feelings for Kellan, an unexpected call for help has everyone on edge. As enemies move in and a horrifying plot is revealed, Kellan and Eli fight back, not only for themselves, but for the fate of all shifters.

Review:
Accepting the Alpha is the first book of a new series by author JJ Black. This story is fast paced and has several little twists and turns that will hold the reader's attention. The book is a shape shifter story that brings together the alpha of one pack and a beta from another. However, unlike some stories where the two meet and are instantly a couple, the author really has Kellan work for his mate, which I really liked. Of course when they come together the heat between them is really intense.
One of the things I liked about Accepting the Alpha are the side issues that pop up during the course of the story. There is the one regarding the possibility of mates between Eli's friend and one of Kellan's betas. Then there are the actions of Eli's father and how they affect all the packs, and finally there is the introduction of Ryker, a lone wolf who comes to Eli's assistance. All of these issues are left open at the end of book one which leaves you hoping that book two will be coming out soon.

Accepting the Alpha is a great book that does everything a first book in a series should do. It introduces the world in which the story takes place to the readers; it sets up future stories by introducing characters and situations that draw the reader in. And it leaves open situations that will bring the readers back for the next installment.
This is one book fans of this sub-genre should not miss.
Reviewed by: Lydia