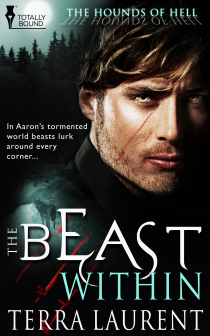 Title: The Beast Within
Author: Terra Laurent
Publisher: Totally Bound Books
Pages: 195
Kisses: 4.5






Blurb:
In Aaron Marvell's tormented world beasts lurk around every corner. But the only one standing between him and his heart's desire is the beast within.
Tormented supernatural security agent, Aaron Marvell, has come to Maryland to restart his career after a vicious workplace attack. His alluring new partner, Tony Harper, seems more than willing to help him acclimate to his new life. But Aaron hides a terrible secret that, if discovered, could put Aaron at the terminal end of his partner's weapon.
When warring factions of werewolves, spurred by the Hellhound Cerberus, arrive in their territory, Aaron and Tony vow to stop them at any cost. But the price for valor may be high enough to cost them everything. Aaron must face the truth about himself and the dark thing lurking inside him before he loses Tony forever.
Review:
The Beast Within is well written romance with a variety of werewolves, demons, humans and other paranormal creatures. The main characters, recently turned werewolf Aaron, and human Tony, are agents working for a specialized security agency. It becomes clear right away that there are a lot of undercurrents woven throughout this story. There is the secret that Aaron is keeping, the mystery surrounding the invasion of a west coast wolf pack, and finally the possibility of a mole within the security agency the men work for. Through all of this the two men find themselves drawn to each other. The chemistry between them is intense; yet, their relationship is obviously going to be anything but smooth.
The author really pulled me in from the first page of The Beast Within. Ms. Laurent does an excellent job bringing the characters in this story to life. I loved the Laundromat scene which made me think of something I would see on the SyFy channel. I also loved the little twists and turns in this story, especially those involving some of the secondary characters.
The Beast Within is the first book in a new series by this author. After reading this book I am not only anxious to see what book two will bring, but also plan to check out other stories by Ms. Laurent. If the paranormal sub-genre is one you are interested in then I strongly suggest you give this book a chance.
Reviewed by: Lydia