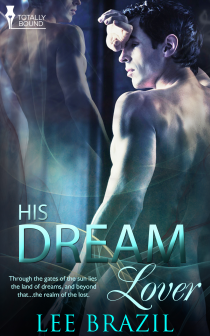 Title: His Dream Lover
Author: Lee Brazil
Publisher: Totally Bound Publishing
Pages: 44
Sub-Genre: Paranormal/ Fantasy
Kisses: 3




Blurb:
Through the gates of the sun lies the land of dreams, and beyond that…the realm of the lost.
In a private hospital room, motionless and still beneath a sheet, lies Joseph Caldwell. His surgery has passed, to all intents and purposes, successfully. The doctors offer no explanation for why he hasn't awakened from the medically induced coma. The stream of visitors trickles down to nothing, and still he lies in endless sleep. Nearly everyone has given up any hope for his recovery.
Anaesthesiologist Oliver Gideon is racked with guilt and confusion. Could he have somehow done something wrong? His superiors assure him he is not at fault, the science he reviews tells him his dosages were correct, but the longer Caldwell sleeps the more Oliver is haunted by the loneliness of the figure in the bed. He spends every possible moment with the patient, reading, talking, trying to fill the little room with sound, to stir a response that science isn't sure is possible.
Morpheus, King of Dreams has welcomed Joseph to his realm. Some dreams, he explains, are true, and some are false. There's only one way tell. Joseph loves the dream world Morpheus has woven for him, for in it, he's found something he never found in reality—a soul mate. For the first time, his life is perfect.
In the end, he has to choose. He cannot stay in the Realm of Morpheus forever. It's either back to the land of the sun, and potential loneliness or on to the realm of the lost.
Review:
Oliver cannot seem to stay away from Joseph, and yes he feels incredible guilt that maybe he has done something wrong that has caused Joseph not to wake up but he is drawn to him or maybe he is just obsessed by him but he simply can't leave him alone.
Joseph is in a dream land that he just does not want to leave, he has met Ollie there and does not want to lose him to go back to his lonely life.
King Morpheus has told him the time is coming for him to make a choice to forever live in his dream world or wake up to live his life.
I found this story to be okay, there was nothing to make it really stand out and really nothing to make me dislike it. I am a huge Lee Brazil fan, and although I didn't care for this short as much as the others, I would recommend her other works very highly.
Reviewed by: Cheryl

BUY LINK