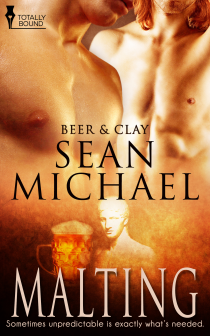 Title: Malting
Author: Sean Michael
Publisher: Totally Bound
Pages: 109
Kisses: 4.5
Sub-Genre: BDSM, Series





Blurb:
This is book one in the Beer and Clay series
Sometimes unpredictable is exactly what's needed, but can Corner Pub owner Damon convince shy Thursday night regular Toby of that?
Damon loves his life—his bar, his employees and his beer. He especially loves Thursdays. That's when the mysterious little red-head dances into his bar, drinks two honey wheat brews, and flits right back out.
Toby's comfortable. He has a good job, great friends, and he gets paid to do what he loves—sculpt. His life is great, if a little predictable. And if he secretly wears a plug to Corner Pub every Thursday, well…that's nobody's business but his.
But when Toby meets Damon, his predictable little life flies right out the window. Damon shows him the big, wide world of the Dom/sub lifestyle, plugs and piercings, and teaches him that maybe, unpredictable is exactly what Toby needed all along.
Review:
Malting by Sean Michael started out fast and smoking *HOT* and did not slow down on the hot sex scenes from beginning to end!
Damon has noticed the pretty little redheaded man who has been coming to his bar on Thursdays for three years and finally starts a dialog with him and finds Toby absolutely fascinating and totally innocent.
Toby likes his well ordered life and is scared to change things but Damon is hard to resist.
I have to admit I fell in love with Toby, he has a kind, generous soul and he is so responsive to Damon.
I recommend this book, though be warned you might need to go sit in the snow to cool off!
Reviewed by: Cheryl