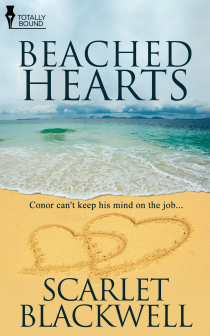 Title: Beached Hearts
Author: Scarlet Blackwell
Publisher: Totally Bound
Pages: 164
Kisses: 3.5
Genre: Contemporary Romance





Blurb:
Lightning can't strike twice for unlucky-in-love Conor, can it?
Local chief of police Conor Kelly has a major headache when a U.S. film crew arrive to record the autopsy of a beached whale in the picturesque seaside town of Kinroe, West Ireland.
It's seven years since Conor was dumped by marine biologist Liam and he's been alone ever since.
Now lightning might strike twice when head of the project Eli Sanders makes his admiration for Conor plain. Conor tries to ignore his attentions. He nearly lost his family to his first homosexual experience and isn't willing to risk it all a second time, no matter how much Eli has captured his imagination, but Eli's not playing games. He wants Conor and he'll do whatever it takes to show him he's serious.
Eli enchants him, seduces him and soon Conor can't keep his mind on the job…
Review:
I am a big fan of Scarlet Blackwell, having said that this is not one of my favorites. The story started with angst and continued with it throughout.
I liked Conor and Eli together, and the sex between them was great… but Conor has a big chip on his shoulder, and is often very cruel to Eli.
Eli fell in love with Conor the first time he saw him and takes Conor's cruel treatment of him and leaves for America twice in this story because Conor kept sending him away.
A little more loving and a lot less angst would have made this book a lot more likable. I do hope they do find their way to a happily ever after….
Reviewed by: Cheryl