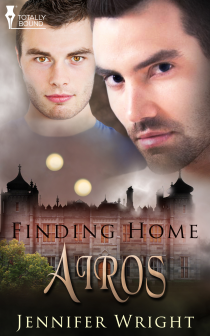 Title: Finding Home, Book 3: Airos
Author: Jennifer Wright
Publisher: Totally Bound
Pages: 201
Characters: Zane, Bo
POV: 3rd
Sub-Genre: Paranormal, Series
Kisses: 5+
Blurb:
Zane has everything in his life under control and in order, but can he keep it that way when a young dragon is thrown into his life?
Zane was meant to be a warrior—end of story. Though he may not have had the most pleasant life living at the coven, he still loved being there. But the steadiness of his world came to a halt all within one day's events. A man he never saw coming has pushed the boundaries of what little normalcy he has, and learning of a secret love is just confusing him even more. Zane has never felt more torn on what he should be feeling…and for whom. Though if he assumed having two men plaguing his every waking thought was hard enough, learning of the danger his mother is in nearly has his head spinning off into another dimension.
The leader of the Dráguns is threatening to take everything away from him, his best friend is slipping further and further away from him, and a little dragon is managing to get under his skin in more ways than one. Sorting out what he has to do, what he wants, and what's right for him will be the biggest challenge he's ever been faced with. Will he follow his heart or will he take the easy path…or is the easy path the right path to begin with?
Review:
Once in a while I have to privilege to read and review a book that will touch my heart, as well as, easily finding myself get totally lost within the story of two incredible men that the author weaves. Airos by Jennifer Wright has everything I love about reading romances and more! Airos is the third book in the Finding Home series. As much as I enjoyed the other books, in my opinion, each story keeps getting better and better as the series progresses.
There are several reasons why I loved this book. One was the passion and intense chemistry between the two heroes, Bo and Zane. When they first meet, they are confused by the sizzling attraction between them, and when they act upon it, the way they touched each other practically made my computer screen steam up! Even though they are intensely sensual and passionate with one another, there is also something very special about watching the two men slowly begin to form a bond of friendship and trust between them.
Zane in particular doesn't believe that he deserves to be loved. He has a reputation of being a bad ass, and has a secret that he's kept from the coven that could possibly cause him to be banished from the warriors and his one friend that he's come to rely on. Once he and Bo meet, Zane begins to question himself and tries to fight the bond between them, but to no avail, because what he doesn't expect is how stubborn his would-be-mate really can be.
Bo is a sweet and sensitive soul. Even though he's smaller than the huge warriors that surround him, he's still got a fighter's spirit and a determination to want to see where his relationship with Zane could possibly lead.
Their journey is not an easy one. There is a lot of push-pull that goes on (especially on Zane's part) and even though they don't always understand their feelings, in the end their relationship truly becomes a beautiful one.
The love story itself was enough to make me happy, but the author throws in an action packed, nail biting, heartfelt storyline that kept this reader on the edge of her seat. Airos is extremely well told and although there is plenty of angst and heavy moments, Ms. Wright balances it out beautifully with lighthearted moments too.
Also, keep a hanky handy. This one was a tear-jerker for me…but it was oh so worth it! I cannot wait until the next book in the series. I hope Ms. Wright can write fast because I'm very anxious to see what happens next!
If you love paranormal romances, Airos is for you. If you love well-told stories, Airos is for you. If you love character driven plotlines that will keep you on the edge of your seat, Airos is definitely for you.
Although this is the third book in the series, Ms. Wright does a great job at writing enough of a back-story from the previous novels, I believe this could be read as a stand-alone in the series. BUT I HIGHLY recommend reading the books in series order. Each book is very special and you'll love and fully understand the dynamics between all of the characters.
The Finding Home books in series order are:

Pavarus
Morvea
Airos
Reviewed By: Gabbi