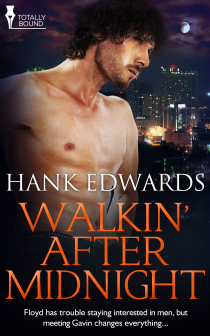 Title: Walkin' After Midnight
Author: Hank Edwards
Publisher: Totally Bound
Pages: 42
Kisses: 4
Genre: Contemporary Romance




Blurb:
Floyd has trouble staying interested in men, but meeting Gavin changes everything. Until Floyd learns his boss is dating Gavin. Now Floyd wants him even more.
Floyd Burland tends bar at Dudebaker's, one of the city's hottest nightspots. He's something of a serial dater, but nowhere near as bad as his boss, club owner Shawn Frost. Floyd is trying to figure a way out of an entanglement with Trevor, a Dudebaker's bus boy, when Gavin Hunt steps into his life. Handsome, outgoing, and just Floyd's type, Gavin is there to talk with Shawn about a singing gig.
On a moonlit night, Floyd discovers Gavin in the club's parking lot with a car that won't start. He walks Gavin home and, during their conversation, Floyd realizes he could very easily fall in love with the man. Later, however, Shawn begins to brag that he and Gavin are dating, and Floyd, in a rash moment of jealousy, kisses Trevor the bus boy right in front of Gavin. Soon everyone is pointing fingers and demanding answers, and before Floyd can even try to fix things between him and Gavin, the singer leaves town to pursue his dream of cutting an album.
Will Floyd follow his own dream and pursue Gavin in an effort to win him back? Will Gavin even give him the time of day if Floyd shows up at his door?
Review:
From the moment Floyd first saw Gavin he felt something click inside, but through a few misunderstandings and Floyd's apparent inability to tell a pushy busboy he's just not interested, Floyd loses any chance he may have had to start something with Gavin…or does he?
For only being 42 pages long, I stayed very interested in this story and I was not left feeling cheated. The story left me totally satisfied and it definitely read like a longer novel.
I can easily recommend Walkin' After Midnight and highly recommend you look up Hank Edwards other works also, you won't be disappointed.
Reviewed by: Cheryl