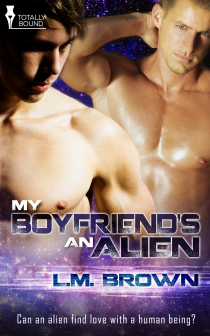 Title: My Boyfriend's An Alien
Author: LM Brown
Publisher: Totally Bound
Pages: 230
Characters: Zak, Sam
POV: 3rd
Sub-Genre: Science Fiction, Contemporary Romance
Kisses: 5
Blurb:
Can an alien with no knowledge of humans or concept of sex find lasting love with a human man?
Zak, an alien from the planet Trimmeron, is a member of a race of beings who transform into other species during their years of puberty. It's customary for the youngsters to be fostered to the worlds native to their new forms, to study and learn about the races who will play an important part in their lives.
When Zak turns into a human it comes as a surprise to everyone, for only one other before him has ever done so. Nevertheless he is sent to Earth, a world he views as primitive and barbaric. He arrives with a chip on his shoulder and attitude to spare. He does not believe anyone on Earth can have anything to teach him.
When Zak meets college student Sam he soon discovers he has a lot to learn, not only about humans, but also about himself.
Trapped on an unfamiliar world and in a strange body that seems to have a mind of its own, Zak has no idea what is happening to him, only that Sam seems to be the key to the strange afflictions he is suffering from.
But can an alien find love with a human being?
Review:
I have to admit I really looked forward to reading this book. Ms. Brown is one of those authors whose stories I really love to read, and from what I read of the blurb, I had a feeling I would really enjoy this book.
I was right. *I love it when that happens!*
The chemistry between Sam and Zak is a very strong one. Not only do they become best friends, but there is a sizzling physical attraction between them that really resonated from the written page. Also, I enjoyed watching both of these young men (they are around 19) really grow and mature as the book progressed. Both men have their own issues and secrets they hide from others, (including each other) but they both discover that honesty, trust, friendship and love will bring them what their hearts desire most. Acceptance and each other.
I also enjoyed the world Ms. Brown created. I thought Zak's culture, traditions and home world was very well thought out and creative. I loved how he really had to adapt living as a human on Earth and thought his struggles were realistically dealt with.
There is also a perfect amount of angst and sweet and sexy moments in this book. Several times I found myself laughing out loud and I even teared up when Sam's issue was revealed. Overall, I thought it is a well written read that I thoroughly enjoyed.
My Boyfriend's an Alien is a must read for any science fiction/romance reader! Not only did it leave this reader very satisfied, it left me with a huge smile on my face. I loved it and I loved the well rounded, happy ending. This is definitely a very easy book to recommend and I'm looking forward to reading more of Ms. Brown's books in the future.
Highly Recommended!
Reviewed By: Gabbi