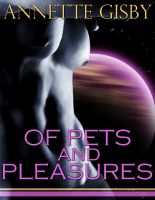 Title: Of Pets and Pleasures
Author: Annette Gisby
Publisher: self published at Smashwords
Pages: 20
Characters: Sebastian Bennet, Haleth
POV: 3rd
Sub-Genre: Futuristic Romance
Kisses: 3.5
Blurb:
The native population of Terra Five have been enslaved by humans for centuries. Owning a pleasure slave is seen as a sign of status, but Sebastian Bennet has never felt the need to own a pleasure slave before. That all changes when he meets the handsome alien youth, Haleth, and decides he must have him for his own.
And as for Haleth, he has little choice in the matter – become a slave or eke out a miserable existence homeless on the streets of Terra Five.
This is a male/male erotica story with a forced Master/slave relationship.
Review:
This saucy short read should do nicely as a before bedtime read, or perhaps on your lunch break. As the blurb states Sebastian Bennet is on the hunt for a pleasure slave, apparently a dime a dozen in this day and age. One merely must go "shop" for one. His friend takes him and insists he gets a slave like everyone else has but Bennet isn't one to just settle. He needs more, someone special, someone unused and it must be a male.
Once he finds the perfect slave, he takes him home and teaches him at once what his job will be. Pleasure his Master. Period. And Haleth, he learns fast and discovers there is no better life.
All in all the story was good, rushed just a bit given the page number but well told.
Reviewed By: Michele