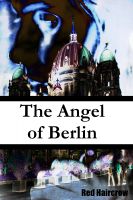 Title: The Angel of Berlin
Author: Red Haircrow
Publisher: Flying With Red Haircrow
Pages: 29
Characters: Robin, Angel
POV: 3rd person
Setting: Berlin
Sub-Genre: Fantasy
Cover Rating: 4
Kisses:5




Blurb:
When Robin, a young university student, saves the life of a beautiful youth, he finds he's made a devoted friend. But without memory and voice, the newly named Angel is a mystery, occasionally exasperating with his child-like qualities yet with touches of darkness that make Robin wonder what kind of being he's really taken in. A tale of magical realism and innocent love set in modern Berlin.
Review:
Two young men meet by chance on a sidewalk in Berlin—one, a university student on his way to work; the other, someone who appears to be precisely that—other. Mute, unable to articulate or even to remember who he is or from where he's come, Robin names the young man Angel, a name that suits the youth's innocent and ethereal nature.
Angel is as enigmatic to the contemporary world as the world is a mystery to Angel, as he attempts to navigate in a place and time in which he is entirely lost and alone. He seems to have been born mere moments before he encounters Robin on that sidewalk; in fact, he might have been delivered specifically for Robin, like a benevolent gift, a gift Robin gratefully accepts.
In Robin's desire to protect the young man, Angel is able to find a measure of security, though the more he interacts in the world, the more the harsh realities of humanity become impossible for Angel to escape, his innocence and trust tested, leading the young man on a frightful journey through the city, a journey that ends with an act of seemingly divine intervention.
There is no doubt Red Haircrow has a gift for descriptive prose; the vivid imagery the author presents through the selection of language sketches a picture for the reader that is rich in feeling and atmosphere. It is, in its way, quite poetic, and in the case of The Angel of Berlin lends to the dream-like quality of this lovely fantasy.
Reviewed By: Lisa