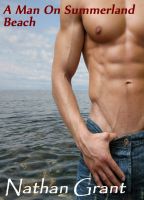 Title:
Author: Nathan Grant
Publisher: Smashwords
Pages: 55
POV: 3rd
Sub-Genre: Contemporary
Kisses: 3
Blurb:
Trying to sort out his unsettled life, writer Sam Grover decides to stay with his Aunt Marina in Summerland, California. Marina's closest friend and artist, sexy Alex Brandt had recently seen Marina and Sam in town together, and his interest was piqued. Unable to get Sam out of his mind, Alex asked Marina to arrange a chance meeting on the beach with her handsome auburn haired nephew. From their first meeting the sexual sparks fly and although reluctant to start a relationship, Sam's intense attraction to Alex is fired by their first intense kiss.
Unable to help himself Sam quickly falls hard for relentless and sensual Alex, and his lovable shaggy dog Marcus. Just when his life finally seems to be coming together beyond his wildest dreams, Sam's past intervenes and threatens to destroy their happiness.
Seeing both her nephew and best friend Alex torn apart and hurting Marina concocts a plan to bring them back together, but will it be enough to convince Sam to believe Alex, and that he is truly the man Sam has been waiting to find?
Review:
Sam is a year out of ending a relationship with a younger less mature man. It took a while for him to realize that his ex, Jimmy, simply was not ready for a committed relationship after discovering he had cheated on him, probably more than once. As a result he has tended toward guarding his heart.
Alex is an accomplished artist who is also protecting his heart after a break up four years earlier when his partner of many years left him for a younger man. He is so protective in fact that he has not only stayed clear of being intimate with another man, he hasn't even dated. He has become comfortable with his dog Marcus as his companion.
Therefore, when the two men meet through an introduction via Sam's eccentric Aunt Marina they are both stunned at the immediate unavoidable attraction that each holds for the other. Awkward at first, it soon becomes clear that they have a deep connection with one another and after an incredible evening of love they proclaim their desire to continue to build on what they have started.
However, Alex is harboring a secret that he isn't even aware is a secret. And once Sam unveils this secret his Aunt Marina must once again interject herself into the lives of the two men she holds most dear in hopes to remedy an unfortunate happenstance. Will her words be taken for the wisdom they are intended, or are egos too stubborn to allow their owner's to achieve happiness?
This is the first time I have encountered Mr. Nathan Grant. I found him to be a rather gentle read but the intimate encounters of his characters are quite intense with deep passion and desire. He has put a lot of emotion behind his characterizations and has made the life situations within the story quite appropriate and believable. It may appear choppy at times but this does not draw from the impact of the story and I am sure this will not bleed into his continued growth as a M/M romance author. I look forward to reading more of Mr. Grant and following this growth as his characterizations are quite good and desirable.
Reviewed By: Jymbo