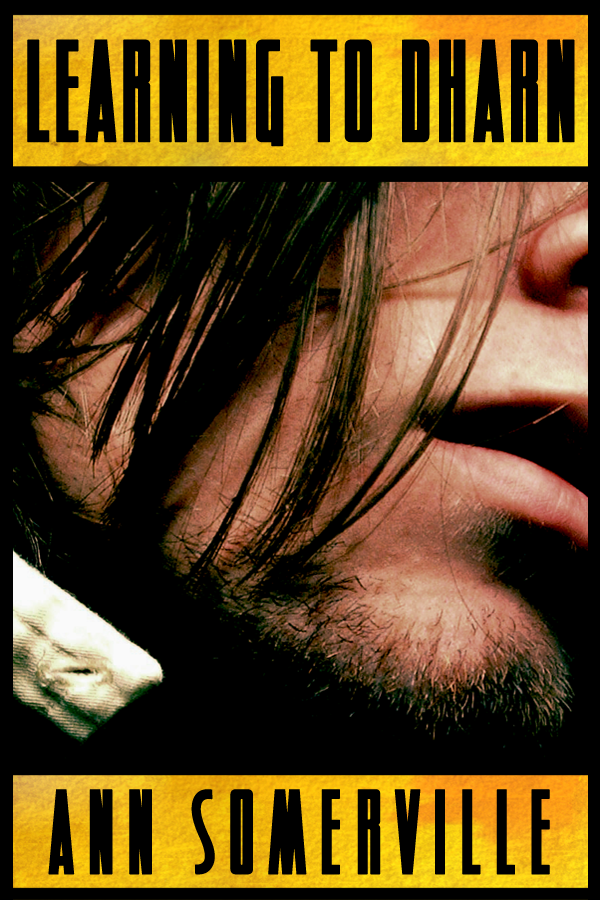 Title: Learning to Dharn
Author: Ann Somerville
Publisher: Ann Somerville via Smashwords
Pages: 170
Characters: Rhede Kelten
POV: 3rd person
Setting: Inades
Genre: Alternate History/Fantasy
Cover Rating: 4
Kisses: 4.5
Blurb:
Rhede Kelten, newly qualified physician, journeys across the oceans to Inades, seeking employment and a life away from an unloving family. An offer of a remote hospital post seems perfect, and he accepts a lift to his new posting from kind strangers. But an idyllic trip turns to horror when they're attacked, his friends brutally murdered, and his own life is saved by a mysterious, mute stranger. Now his fate is in this stranger's hands as they travel across a snowy wilderness. With his destination unknown, and his companion unwilling to share the smallest detail or comfort, Kelten wonders if he'll ever be able to resume a normal life.
Dharn is a hunter, deaf from birth, who's been raised in a community where deafness is no disability. His life follows an orderly rhythm from season to season, trapping with the help of his loyal dog, but when he rescues a feckless, rather arrogant young man from marauders, his peaceful existence is turned upside down. The responsibility isn't exactly welcome, but there's something about Kelten that attracts him. If Dharn can just keep him out of the clutches of the law and the marauders' friends, these two people from very different backgrounds might have a chance of being together.
Review:
Harsh landscapes and even harsher life lessons await Rhede Kelten in Ann Somerville's Learning to Dharn, as the newly minted doctor leaves behind his home in the country of Bunes to set out on a new course toward his future. Journeying across the rugged terrain of Inades, Kelten accompanies an aging couple on his way to a distant outpost in need of a doctor, a promising position for a man who is as yet untried in his profession, but what he finds, instead, is that life's challenges are often more difficult to assimilate than anything one could ever be taught in the classroom.
Set upon by bandits in the wilderness, Kelten's aged friends are brutally murdered, as might have been the fate for Kelten himself without the intervention of a silent stranger who quickly dispatches the killers to their untimely deaths. Kelten is ill prepared for the trials of living rough and must again rely on the generosity of his rescuer, Dharn, to help him through the unfamiliar and remote territory. The situation provides a new set of challenges, however, as Kelten quickly discovers that Dharn is deaf, a situation that makes communication difficult but not impossible, and proves that misunderstandings are inevitable when one jumps to conclusions without first discerning certain facts.
This story might have been subtitled The Reeducation of Kelten, as the man must learn, not only how to communicate differently, but also how to listen differently—Kelten hears quite well but often chooses not to accept what he's being told. It is not a test easily passed for a man whose life has given him little reason to doubt that what he knows from his own land is dissimilar to the rest of the world. It is a test that very nearly costs Kelten his freedom, as he becomes torn between his ethical responsibility and his loyalty to Dharn, which soon finds Kelten a fugitive from the law.
In an alternate reality that resembles a 19th century frontier setting, when a man was as good as his word, the horse he rode, the weapon he carried, and his instinct for survival, Kelten and Dharn learn some very difficult truths about themselves and each other. As the deaf community represents all those who are persecuted for being different, they are ostracized by the mainstream hearing population, leaving them little alternative but to establish their own settlements and rules of survival.
Learning to Dharn is the story of two men who learn that language is translated not only through signs and vocalizations, but is also translated through looks and touches which convey an unspoken intimacy too powerful for mere words. This is the story of one man who cannot hear and another who, at times, refuses to listen, and the unconscious way in which they imprint upon each other to the point of possibly sacrificing everything to be together, messages that Ann Somerville has absolutely no problem communicating beautifully to her readers.
Reviewed By: Lisa